Candidate experience has become a hot topic in recruiting in the past few years. In this article, you will find out how to use analytics to optimize your candidate experience.
By utilizing analytics, you have a tangible way to both understand and improve how candidates interact with your company. Take a moment to think about the questions listed below and at the end of this article you will have a better idea of what you need to measure and why.
How to optimize your candidate experience
How successful are your job advertisements?
Analytics can help you to see your job advertisements through your candidates eyes. For example, you can read here how the company Runner's Point managed to improve their relationship with candidates and increase incoming applications by 92% through targeted optimization and data analysis. They noticed the high bounce rate on their job advertisement and made improvements, like emphasizing the company work-life balance at the top of the page.
Who are your candidates?
Another key to creating a positive candidate experience is by understanding who your candidates are. For example: What websites are they coming from? Are they using desktop or mobile devices? What region do they come from? Once you have this information, you can adjust your recruiting approach accordingly, like optimizing your career page for mobile devices or targeting specific regions with job ads.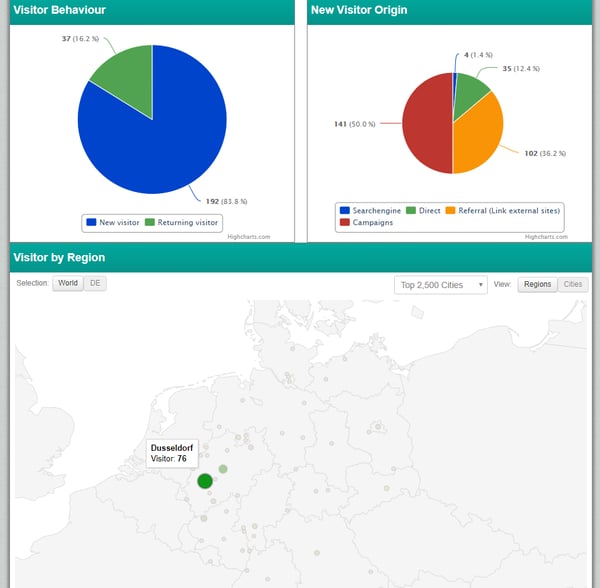 Screenshot: Visitor information in the Talention software
How is your career page performance?
Your career page is the heart of your recruiting process and it is essential to find out how candidates are interacting with your site. Is there a high bounce rate? Then you make want to add an image to the top of the page to make it more eye-catching. Are you getting new visitors every day? If not, you may want to consider updating your SEO strategy. Are candidates clicking through to the job advertisements? If you aren't getting enough clicks, perhaps the links are hidden too far down on the page.
Which channels are bringing you the most applicants?
Whatever career sites your candidates enjoy using are the ones you should be focusing on. By looking into the analytics of you most successful channels, you can pick and choose the right sites to focus on. Meeting your candidates where they like to search will make their process easier and more enjoyable.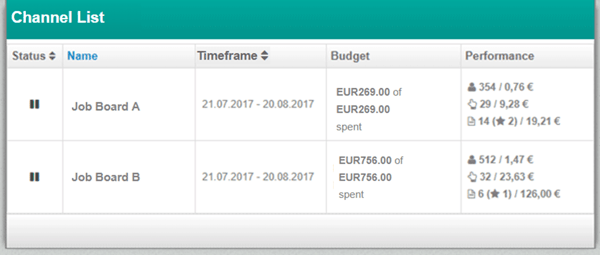 Screenshot: Channel analytics overview in the Talention software
Check out our post "The Ultimate Guide to Candidate Experience", to find further resources for the topic candidate experience. And check out our page "The Ultimate Guide to Recruitment Analytics and KPIs" to find further resources on the topic of recruitment analytics and KPIs.
The easiest way to collect all of this data is through a recruitment marketing software. With a software like Talention you can analyze the above mentioned points, as well as many more. If you would like to hear more about how this would look in your industry or would like some recommendations, you schedule a demo here. Request a demo now.