It feels like the number of job boards just keeps rising, there is a specific site for almost every niche from location to profession to industry. But no matter which job boards you choose to use, you should make sure your campaigns are fully optimized for success. That's why we've gathered ten helpful tips for using job boards that you can start implementing today!
10 helpful tips for using job boards
1. Use the right keyword or title
The job title you choose for your job advertisements is crucial. This will determine who sees your ad and also who will click on your ad. Keyword research should be conducted before you upload your job ad to your job board of choice. Then you should continue to try different job titles to see which works best on each job board.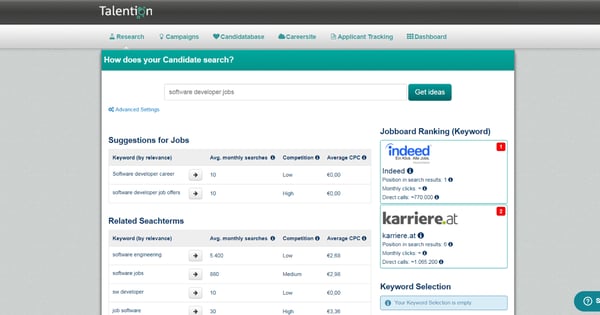 Screenshot: Keyword research tool in the Talention software
2. Pick the optimal location
When setting up your job ads in a job board, you are usually able to set a target location. This can range from city to state to country, depending on how big you are searching. Making sure that you reach the right audience is often based off of your location settings, so this should be well thought out.
3. Refresh the ad as often as possible
Most job boards are sorted with the newest job ads listed first. If your job was posted 30 days ago, it's very likely at the bottom of the pile. You should continue to refresh and repost your job ad so that it stays current and receives more traffic.
4. Embed a tracking link
If you embed a tracking link into your ad, you'll be able to see which visitors are coming from which job boards. This will allow you to analyze which job board is working the best for you.
5. A/B test between different job boards
Going along with the aforementioned point, you should use your tracking data to conduct A/B tests between different job boards. Via testing, you can determine which board brings you the most qualified candidates for the lowest cost. The easiest way to do this is to use a tool that's integrated into your recruiting software.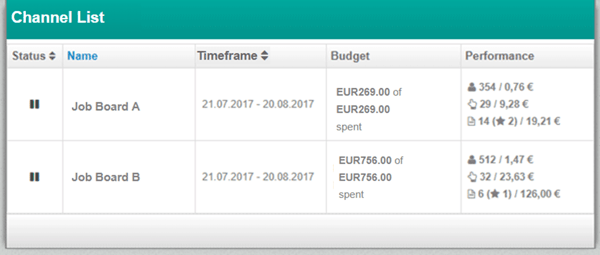 Screenshot: Channel comparison tool in the Talention software
6. Include a contact person
Including a contact person on your job ads will help to create a more personal connection with job seekers. If possible, you should include a photo, name, and an email or phone number.
7. Highlight your employer brand
Your employer brand should stand out on whichever job board you use. This could mean including your company logo or a photo of your team on your job ads. You should also include your benefits that make you stand out as an employer of choice.

Screenshot: Example of Talention's employee benefits
8. Use attractive wording
Your job ad has to differentiate itself from all the other job ads on the job board. Using attractive wording can help your ad to be more attention grabbing. For example, try using motivational wording like "We're a strong team of 25 creative people who are pursuing a joint vision."
9. Test different pricing options
There are different pricing options available on different job boards. Common options included cost-per-click, where you pay for each individual click, or length of time, where you pay for the amount of time your job is posted. You should test out different options to determine which works best on which job board.
10. Ensure an easy application process
Make sure that you have an easy application process to ensure that candidate are not scared away from submitting an application. This is particularly important depending on the skill level of the position. The more advanced the position, the easier the application process should be. Try setting up a one-click application or allow certain positions to apply with their phone number.
Would you like to learn more about using job boards effectively? We would like to show you best practice examples and concrete implementation in the Talention software. Just ask for a free demo here and someone will get in touch with you shortly. Request a demo now.