If you work in HR, you've probably started to hear the term HR marketing over the past few years. But what does it mean? And how can you utilize it in your recruiting process? In this article, you will learn the definition of HR marketing and its most important components.

Definition of HR marketing
HR marketing aims to create a powerful and positive candidate experience. This is achieved through the combination of target group-specific content (employer branding content) and a recruiting marketing strategy. These two components enable companies to build and maintain relationships with their candidates. With this method, companies can reach active as well as passive candidates and excite them about the company. The ultimate goal is to increase reach within the desired target group.
The important components of HR marketing are:
Content
How is your employer brand perceived today? Give your prospective customers an authentic insight into your company by creating content that is based on the the interests and requirements of your target group. Anchor yourself in the minds of your target group as an attractive employer.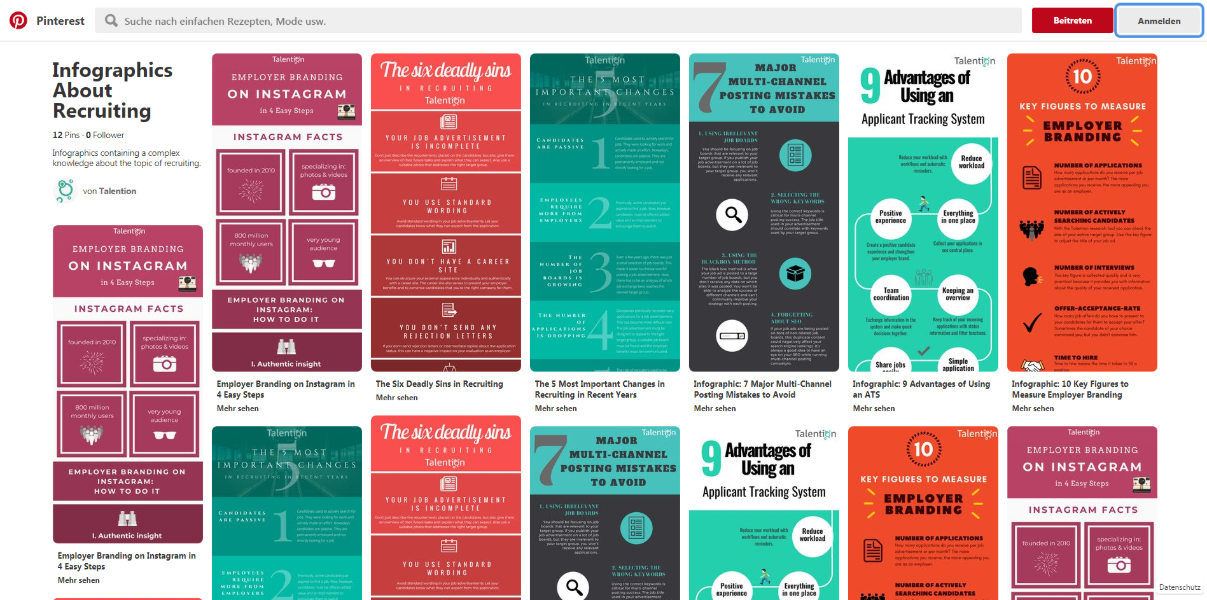 Screenshot: Example of content created and shared on Pinterest
Leads
How high is the chance that a qualified candidate, who does not know your company at all, will simply apply on your website? The chance is very small. You've likely had the experience that qualified candidates are difficult to recruit. Use your network, candidate sourcing, your career page, events, etc. and gather contacts. Establish a relationship with candidates and recruit top talents quickly and easily from your own talent pool.
Channels
Active and passive candidates come into contact with your company via a variety of channels and platforms. With modern HR marketing, you choose the channels that suit your target group. Compare different channels and evaluate them for your recruiting success. Reach your target group wherever they are and convince them with your offer and your employer brand.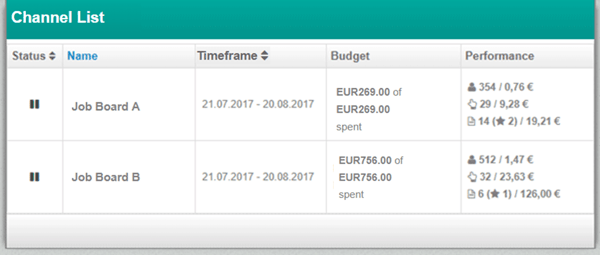 Screenshot: Example of channel comparison tool in Talention
Analytics
Analytics play an important role in understanding how HR marketing impacts the amount of qualitative applications you receive. You will have a better understanding of where your candidates come from. Analytics show you where candidates are lost in your candidate journey. You will also learn how to reduce the bounce rate and increase the conversion rate.
Check out our page "The Ultimate Guide to HR Marketing"

 to 

find further resources on the topic of 

HR marketing.
Would you like to see more specific HR marketing examples from your industry? We will gladly show you further best practice examples and concrete implementation in the Talention software. Just ask for a demo here and someone will get in touch with you shortly. Request a demo now.