Are you having trouble finding new channels for sourcing candidates? With the rise of social media and online platforms, the opportunities for sourcing have grown tremendously. Yet it can be difficult to know where to start. But don't worry, we've put together a list of the top 22 sourcing channels that could help you to find more qualified candidates.
First Steps
Before you start choosing channels, there are a few things that you should do. First, define your target group. You won't be able to pick the right channel if you don't know what target group you are looking for and what channel they use the most.
Next, you should conduct keyword research so that you have a better understanding of the job titles being used in your target group. For example, if you are using the term "Online Marketing Manager" but your target group uses the term, "Digital Marketing Manager" you will get less applicants.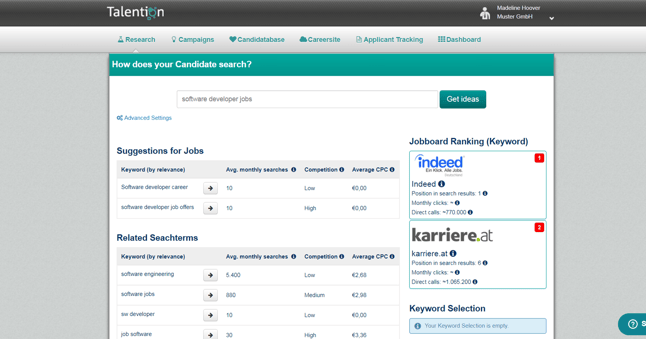 Screenshot: Example of a keyword research tool in Talention software
Finally, you need to define your target audience. These are the people that you want to reach through your sourcing efforts. It is important to narrow down specifics like location, skills, and professional experience.
Now you're ready to focus on a few channels!
The Ultimate List of Sourcing Channels
The key to a successful sourcing strategy is using multiple channels in an optimized way. While you are likely already using a few of the channels below, why not take a minute to scan the list and see if there are any new channels you could try out? But don't forget, while this list contains a lot of inspiration, there may be even more specific channels that your target group uses, so make sure you do some channel research too.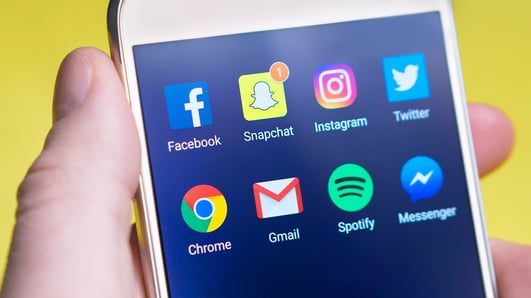 1. LinkedIn
LinkedIn is the world's largest professional network, making it the perfect place for sourcing. To learn more about how to place job ads on LinkedIn, read more here.
2. Country-specific professional networking platforms
LinkedIn may be the largest professional network, but it's not the only one. If you are recruiting people outside of the country, it may be worthwhile to look into professional networks from other countries (e.g., Xing in Germany, Maimai in China).
3. Glassdoor
Employer review websites, like Glassdoor, are another good way to source candidates. Make sure that your company has an attractive profile set up on this site.
4. Facebook
Facebook isn't just for fun, it's also a great way to reach new candidates. Facebook Ads make it possible to attract new applicants in the evenings and on the weekends.
5. Google
It may sound too simple, but it is possible to source via Google search. Just like any other search query, you can search for specific qualifications and find the websites or professional bios of potential candidates.
6. Twitter
If you are willing to spend some time creating a profile, building a following, and posting on a regular basis, then Twitter could be a good option for you. It gives you the opportunity to share your positions, interact with candidates, and show a little bit of your company's personality.
7. Blogs
This is a good way to source candidates in various fields. For example, you can search on a blogging platform, like Blogger, for a blogger in a specific location who writes about a specific industry. This will also give you tangible examples of their work and writing style.
8. YouTube
Not only can you interact with and comment on potential candidates videos, on YouTube you can also post your own recruiting or employer branding focused videos.
9. Google+
On Google+ you can search candidate profiles and filter out for specific qualifications, like location and job title.
10. Reddit
On Reddit it's important that you not only post your job ads, but also contribute to relevant discussions and post related content.
11. Niche forums
Reddit isn't the only online forum, there are also a lot of niche forums, for example how-to-learn-any-language.com would be a good place to look for translators or other positions that require multiple language skills.
12. WhatsApp
WhatsApp can be used for sourcing in several different ways. One is through joining relevant groups and getting in contact with candidates through posting content. Another is through using the WhatsApp Buisness App which enables easier communication with potential candidates through it's connection with Facebook.
13. Instagram
While Instagram is another channel that does involve some time investment, it is also a great tool for employer branding and reaching passive candidates. There are many ways to source candidates, including by location, by hashtags, and through comments.
14. Pinterest
If your target group is female, then Pinterest should be part of your sourcing strategy. Through creating interesting pin boards and optimizing your job posts for Pinterest, you may be surprised by the amount of candidates that you find.
15. Snapchat
Need to reach millennials? Then Snapchat may be the place for you. More than half of millennials are on Snapchat every day, making it a great sourcing tool for the younger generation.
16. StackOverflow
StackOverflow has major sourcing potential for programmers and developers. You can search for candidates based off of qualifications and then you instantly have some examples of the quality of their work.
17. Slack
Slack offers various communities where you can join discussions and chat with relevant professionals. Visit slacklist.info to find information on the top Slack communities.
18. Flickr
For creative positions like photographer or graphic designer, Flickr can actually be a useful channel. You can search for people with a specific job title and also get an example of their work.
19. Craigslist
While it used to be the best spot for snagging a used couch, Craigslist is now a potential channel for sourcing. It's great for seasonal, part-time, or remote positions.
20. GitHub
GitHub is another great way to not only view the work of developers, but also to recruit them. One tip for this site is to reach out to new users who haven't been inundated with messages from recruiters yet.
21. MOGUL
Through MOGUL, you can reach out to women all over the world. This site is geared specifically toward women and has become a way to share relevant positions and increase the diversity of your candidate pool.
22. Upwork
Looking to source freelancers? Upwork is the perfect spot to reach out to freelancers in various industries and also read reviews of their past work.
Check

 

out our page "The Ultimate Guide to Candidate Sourcing"

 to 

find further resources on the topic of 

candidate sourcing.
Would you like to see more specific sourcing examples from your industry? We will gladly show you further best practice examples and concrete implementation in the Talention software. Just ask for a demo here and someone will get in touch with you shortly. Request a demo now.