Recruiting events are becoming more and more important for a successful recruiting strategy. Yet a critical aspect of this process is often overlooked: tracking the success of the event. Do you use any metrics to track the success of your events? In this article, we will share with you six different ways to track your recruiting events.
The importance of tracking recruiting events
Recruiting events always require a lot of time, energy, and planning from within the team. Therefore it is essential to make sure that you are able to understand the ROI of your own events. This will help you to continually improve your own events process and also increase their value.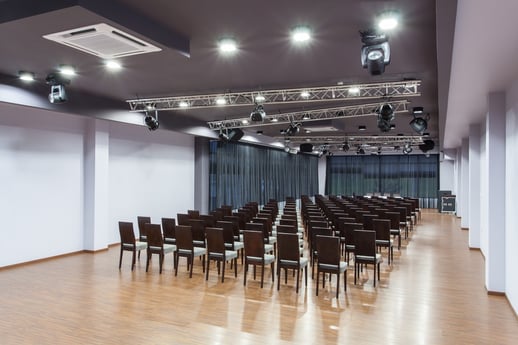 6 ways to track your recruiting events
1. Interaction with your newsletter
One of the best ways to invite interested professionals to your events is via a newsletter. And it has the added bonus of being easier to track and analyze. Once you send out your newsletter, you should pay attention to the CTR (click-through rate) and conversion rate.
If you notice a low CTR or less conversions, you should consider changing the setup of your newsletter. For example, perhaps the event CTA (call to action) is not clear or hidden too far down on the page.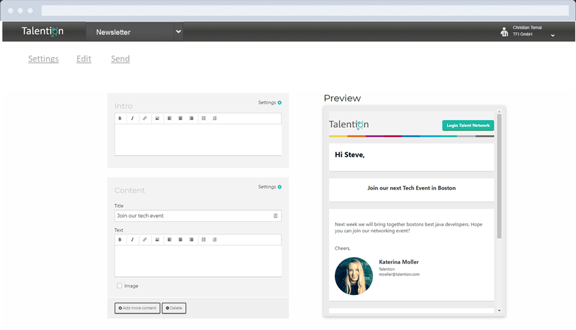 Screenshot: Example of the newsletter tool in the Talention software
2. Number of people signed up
Although this is a basic metric, you should be tracking the number of people who sign up and how they've signed up (for example from your newsletter, social media, or other medium). If you don't get as many particpants signed up as you would like, you should take the time to consider if your event is the right topic for your target group or if you've shared your event on the right channels for your target group.
3. Number of people in attendance
Tracking the number of people who actually show up to the event is essential. This can be done in a variety of ways, but one person should be dedicated to making sure this happens. It would also be wise to track who those people are, rather than just an overall number, because you may want to send follow-up emails or deepen relationships with those who were in attendance.
4. End of event survey
Conducting a survey at the end of the event will help you to track a number of things. First, it will give you an accurate picture of who showed up and then it will tell you what they actually thought about the event. With this information, you can improve your future events. You could also include other points on the survey, such as a box to check if the attendee would like to be contacted by a recruiter after the event.
5. Number of candidates who apply that attended the event
Since you've kept track of all those who were in attendance, you will also be able to track how many of them apply to a position at your company. This will help you to see the long-term impact of your events and confirm whether or not you are reaching the right target group.
6. Number of successful hires that attended the event
Perhaps the most valuable metric to track is how many of those attendees actually become employees at your company. Although this number may be small, it will be the ultimate testament to the success of your events and help you to understand your recruiting event ROI.
Check out our page "The Ultimate Guide to Recruiting Events"

 to 

find further resources on the topic of recruiting events

.
Would you like to learn more about tracking recruiting events? We will gladly show you further best practice examples and concrete implementation in the Talention software. Just ask for a demo here and someone will get in touch with you shortly. Request a demo now.