With the recent drop in the unemployment rate, the competition for qualified candidates is fiercer than ever. For staffing agencies in particular, its important to stay ahead of the competition by adopting the latest recruiting techniques and tools. Only in this way can you convince candidates to choose your agency over the rest. In this article, we'll give you 13 ways to make your staffing agency's brand really stand out from the crowd.
13 ways to stand out as a staffing agency
1. Implement SEO strategies
It's easy for job ads to get lost in the multitude of advertisements across the internet. That's why it's so important to make sure your ads are optimized for search engines to ensure you're always at the top of the rankings.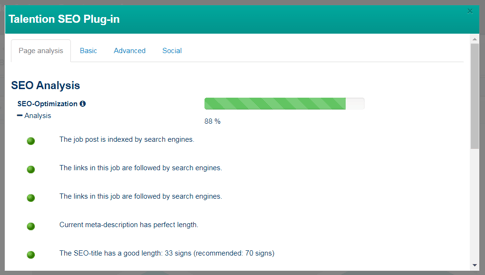 Screenshot: SEO tool in the Talention software
2. Make your job listings fast and filterable
As a staffing agency, you likely have a significant amount of open positions on your career page. It's crucial that your list of positions is quick and easy to use and that it's filterable for certain categories like location, department, and type of employment.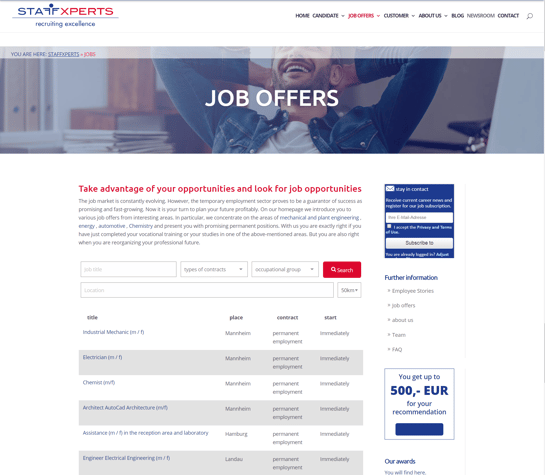 Screenshot: Example job listing with filters from STAFFXPERTS
3. Host events
Events are the perfect way to stand out and make your agency memorable. And there are types of events that are a perfect fit for a staffing agency.
For example, a job fair highlighting your open positions is a great way to meet candidates and have them submit application on the spot. Or, for positions like seasonal work or the service industry, you could host an evening of "speed dating style" interviews to meet a large number of potential candidates at once.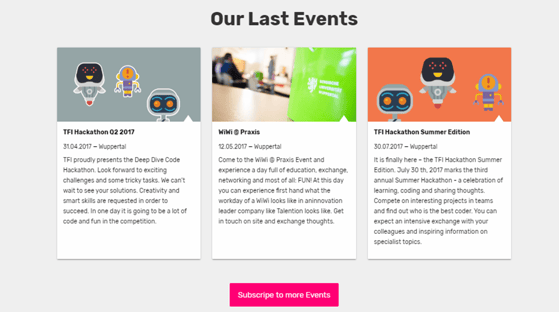 Screenshot: Example of events hosted by Talention
4. Nurture your candidates
One way to stand out from the crowd is by nurturing your candidates. By creating nurturing campaigns you will keep candidates interested in and informed about your agency.

Example of a nurturing campaign
A monthly newsletter is ideal for updating candidates on company news, open positions, and to reinforce employer branding.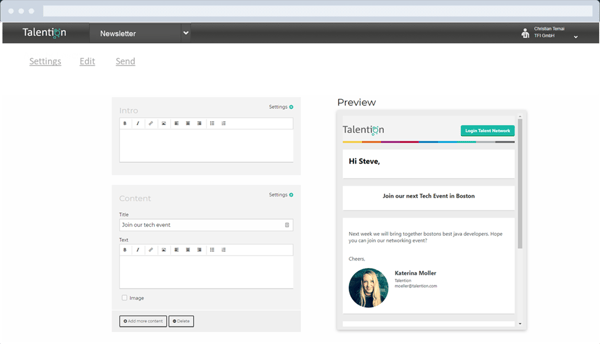 Screenshot: Example of Talention's newsletter tool
5. Create landing pages
Having specific landing pages can be very beneficial for a staffing agency. You potentially have positions across various departments or even industries, so having pages dedicated to each category can really help to answer more specific questions that a candidate may have.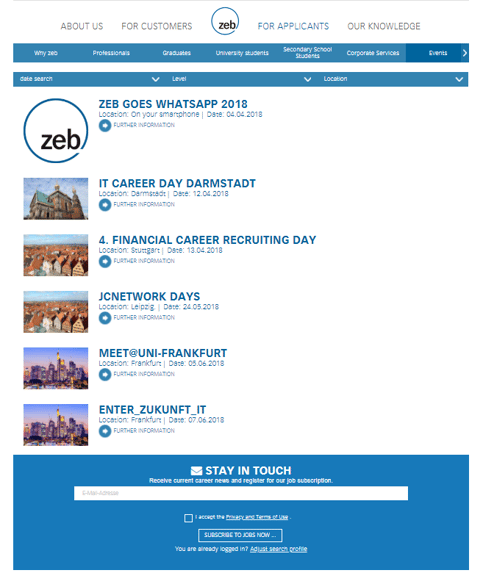 Screenshot: Example landing page from zeb
6. Use A/B testing to your advantage
An agency that's ahead of the curve will always be focused on improvement. One of the best ways to test changes to your job ads or landing pages is via A/B testing. Through A/B testing, you can learn what works best to attract candidates and convert them into applicants.
7. Optimize for mobile
More and more job seekers are using their phones to search for a new job. That's why you need to make sure that your job ads and career site are optimized for mobile.
Having a site that is fast loading, easy to navigate on a mobile, and providing the option to submit an application via a mobile are all important for providing the best mobile user experience.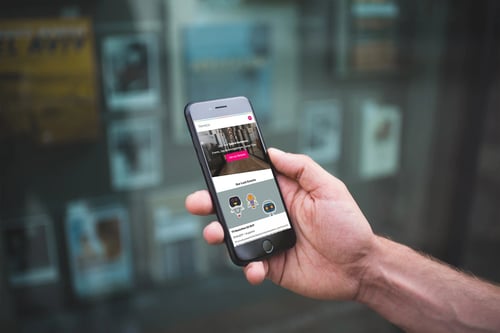 8. Utilize a talent pool
A talent pool is helpful for both the staffing agency and the candidates. It ensures that the staffing agency has a pipeline of qualified candidates who are interested in their open positions. And it helps the candidate to stay in contact with the agency and puts them into consideration for future openings.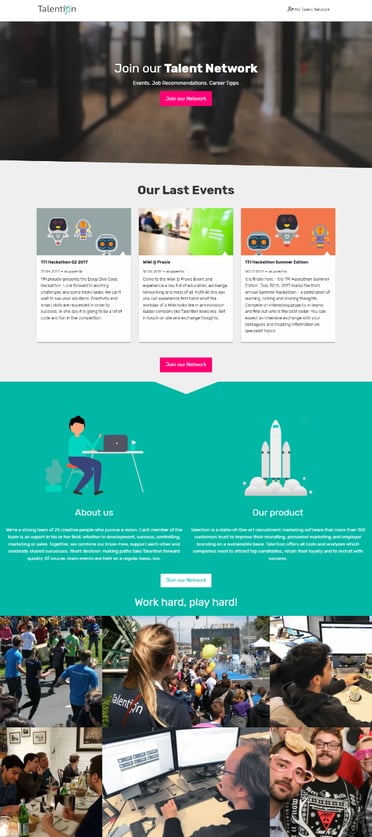 Screenshot: Example of Talention's talent pool landing page
9. Provide the best candidate experience
Candidate experience is often overlooked in the recruiting process. To become a memorable agency, providing a positive candidate experience is vital. One of the best way to do this is by understanding your candidate journey and making sure the candidate is satisfied throughout the entire process.
10. Conduct keyword research
Keyword research is important for reaching the right audience. You need to be certain that job title you are using is the one used by your target group. Effective job ads will lead to more applicants at a reduced cost and will leave your agency with more of a profit.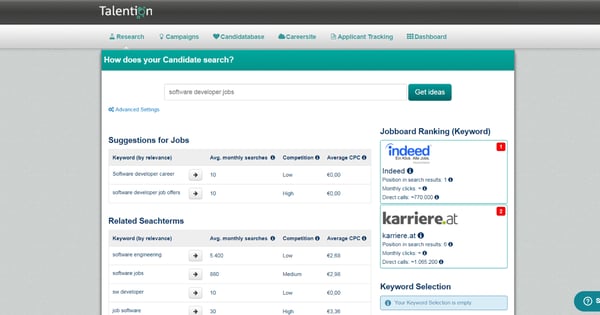 Screenshot: Keyword research tool in the Talention software
11. Pay attention to form fields
When making the first steps to get in touch with candidates, asking for less information in your forms can help to increase your applications. You can always ask for more information (CV, cover letter, references, etc.) in the next few steps when you have determined that they are a qualified candidate.
12. Offer quality content for free
Offering free content for candidates is a great way to get in touch and collect leads. For example, you could create e-books or checklists for candidates containing information like tips for their application or how to best prepare for a job interview.
13. Use a multi-channel posting tool
Using a multi-channel posting tool is a great way to try new channels in a simplified way. With such a tool you are able to track your campaigns across multiple channels and analyze your results to decipher which channels will ultimately give you the best results for the lowest cost.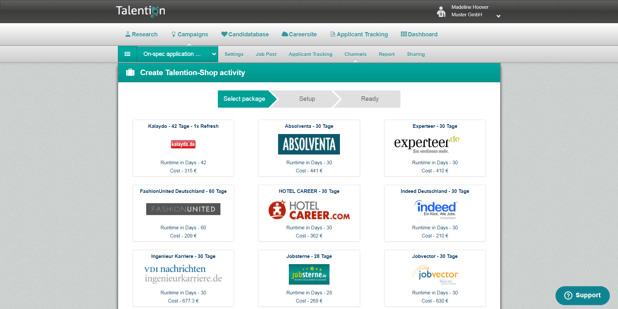 Screenshot: Multi-channel posting tool in the Talention software
Check out our page "The Ultimate Guide to Recruitment Marketing for Staffing Agencies"

 to 

find further resources on the topic of staffing agencies.
Would you like to learn more about staffing agencies best practices? We will gladly show you further examples and concrete implementation in the Talention software. You can request a demo here and someone will get in touch with you shortly. Request a demo now.