The activities of a recruiter have changed fundamentally in recent years. In this article, we will explain why the recruiter's profession has changed and which skills are relevant for a successful recruiting strategy.
Changes in the job market
The job market has changed dramatically in recent years. In 2010, the U.S. still had an unemployment rate of 10%. As a result, candidates were actively seeking work and had to undertake a complicated application process in order to find a job. The unemployment rate is now only 4%. This means that candidates' behavior has also changed. Today's candidate is not actively seeking, but is in permanent employment. Thus candidates have become more demanding in terms of the application process. But it's not just that, you can also only convince passive candidates with a better added value that their current company offers them.
In the last 15 years a strong digitization has taken place. The following portals and websites reflect this digitalization and have developed rapidly in the recent years.

It is important that you adapt your recruiting strategies to reflect these circumstances. Start by introducing recruitment marketing into your process. You can find out more about what this means here.
Recruiting strategy
You should strategically set up your recruiting process with the following points in mind:
First, find out who your target group is. Then create a candidate persona for a better understanding of what employee benefits you need to offer your candidates.
Next, observe your competitors. Find out their advantages and differentiate yourself from them. In the best case, you can offer your candidates an added value that your competitors don't offer.
An important part of the recruitment marketing is the analysis and optimization of the candidate journey. The candidate journey describes the path a candidate takes when applying to a company. During their journey, a candidate experiences several contact points and develops an individual perception of the process.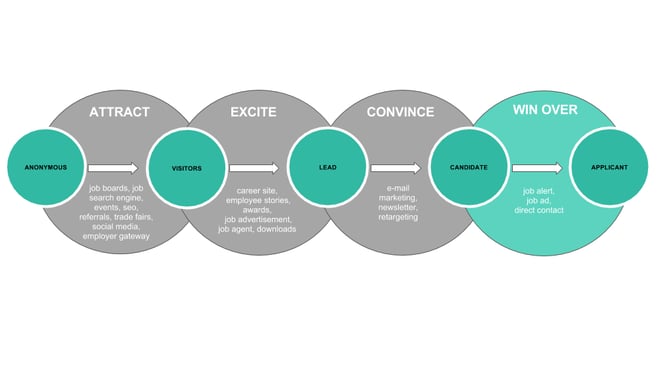 In this context, the analysis of the click-through rate and the conversion rate also play an important role.
Implementing your recruiting strategy
If you have developed a recruiting strategy, you should implement it as intelligently as possible. You should make sure that the following topics are covered.
SEO
Make sure that your job advertisements are optimized for search engines so that they can also be found on Google.
Career page
Career pages are becoming more and more important. They are important for creating an convincing external appearance. Via your career page you get in contact with candidates and have the chance to show them why you are an excellent employer. You can find out which components your career page needs to contain here.
Job ads
Optimize your job ads and make them appealing and informative for your target group. Find out what a successful job advertisement needs to contain here.
The right job board
Find out which job board is visited the most by your target group. These are the job boards that you should be using to fill your vacancies.
Free job boards
Free job boards can also provide you with quality candidates. However, you should monitor how successful these job boards are for you.
The right job title
Did you know that 30% of job advertisements aren't even found by candidates? If you use the wrong job title, your job ad will not be found. You have to find out which title is the most common for your target group.
Application form
You should adapt and individualize your application form. You can't ask a senior with several years of work experience to spend the same amount of time and effort on an application as a trainee.
Analysis
Collecting key figures for your recruiting process is of the utmost importance. This is the only way can you build up sustainable knowledge, reduce your recruiting costs and also save time.
Technology
In order to be able to implement all of these components into your recruiting strategy, you should be using software. Software supports you by implementing and bundling all components of your strategic planning. Only in this way can you conduct an efficient evaluation and you sustainably improve your processes. Talention offers you all the components you need to successfully implement recruitment marketing and to carry out and evaluate the corresponding analyses. We would be happy to show you in a free demo how this process would look in your case. You can schedule your free demo here.
Check out our "Ultimate Guide to Becoming a Modern Recruiter" find further resources for recruiters.