As a recruiter, one of the best feelings is finally selecting your dream candidate after a long deliberation process. Which leads to one of the final steps of the recruitment process: the job offer email. We've put together 6 quick tips to help you write the perfect job offer email and included a best practice template that you can customize.
6 Quick Tips for Writing the Perfect Job Offer Email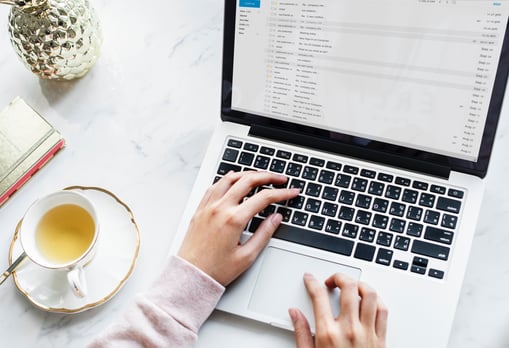 1. Call the candidate first
It might seem counterintuitive that the first tip for writing a job offer email is calling the candidate - but hear us out. If you call the candidate first, you can offer them verbal congratulations, share the specifics, and leave room for questions that may need to be addressed in the email.
Then the email will serve as a written confirmation of the offer and provide all of the additional information. It will ensure that the candidate knows the email is on its way and doesn't miss it.
2. Don't forget the subject line
Speaking of a candidate missing your email, you need to make sure your subject line catches their attention. If they are in the midst of interviews with multiple companies, they might not be opening every email right away. By using a subject line that references the job offer, your email open rate is likely to be higher.
3. Make sure you motivate and excite the candidate
You can't expect that the offer alone will make a candidate accept your position. It's possible they have multiple offers coming in or might be deciding whether or not it's worth it to leave their current position. Your job offer email is a last chance effort to convince them why they should join your team.
4. Give them all relevant information
In order to make their decision, the candidate needs all of the relevant information about the position. It's a good idea to either include this in the email text or to include it in an offer letter as an attachment.
For example, some of the information that may need to be included is:
Job title
Start date
Responsibilities
Department
Manager
Working hours
Type of contract (full time, part time, temporary, etc.)
Contract length
Salary
Pay period (weekly, biweekly, monthly, etc.)
Additional benefits (Health insurance information, 401(k), paid time off)
Items that need to be completed before start date (background check, drug test, etc.)
5. Allow for open communication
Make sure that the candidate feels like they can ask questions or contact you about any concerns. If you haven't already spoken to them on the phone, now would be a good time to either let them know that they can call or ask them to schedule a time to talk with you. This way you can avoid any miscommunication about the offer.
6. Tell them about the next steps
Informing the candidate about the next steps will help to ensure a smooth and positive transition from candidate experience to employee satisfaction. By letting them know how the process will work, for example where and when the contract signing could take place or when their first day would be, you set them up to feel confident and prepared for their new position.
Best practice: Job offer email template
If you're in need of a job offer email template, we've put together a best practice example below that you can use for your next offer.
Job offer email template
Subject Line: Job offer from [Company Name]
Dear [Applicant Name],
We are thrilled to offer you the [job title] position at [Company Name]! You've impressed us throughout the application process and we believe you are going to make a great addition to our team.
We anticipate that your start date would be [date] and you will be reporting to [Supervisor's Name] on the [Team Name] team. As discussed, your salary will be [salary amount] paid on a [pay period] basis via [payment method]. This is a [type of contract] position and you will be expected to work [number of hours per week], with [number of paid vacation days] paid vacation days per year.
We've attached a detailed offer letter with more information. Please sign this form and send it to us via email to [email address] by [deadline date]. After you've signed, we will discuss your onboarding process and first day in more detail.
Please do not hesitate to reach out to me via phone or email with any questions or concerns.
I look forward to hearing from you soon!
Best,
[Sender's Name]
Would you like to learn more about how to write job offer emails? We would like to show you best practice examples and concrete implementation in the Talention software. Just ask for a free demo here and someone will get in touch with you shortly. Request a demo now.