2022 will be here before we know it and, if the recruiting world continues to change at a rapid pace, it will certainly look a lot different. Staffing agencies in particular will be subject to many changes and adopting a new way of thinking will be critical for their advancement. In this article we're going to take a deeper look at what the staffing agencies of the future will look like and how software will play a role in their success.
How recruiting has changed
Recruiting has drastically changed over the past 10 years and will continue to change in the next 10 years. Some of the biggest recent changes have been:
1. Passive job market
The war for talent is getting increasingly competitive, as the unemployment rate has dropped to four percent. The majority of candidates are no longer actively looking for a job but rather are passive candidates who need to be convinced to leave their current positions.
2. Changing technology
Recruiting continues to become more and more digitized, with a significant portion of the process now taking place online. Now more than ever it is critical to have the right tools to improve both the online and offline recruiting process.
3. New channels
Social media and social networks have become a huge part of recruiting in recent years. Social networks like LinkedIn allow for connections to be made without any in-person or over the phone interactions. Facebook has also become a popular place to post jobs and connect with different target groups.
4. More competition
With less candidates on the market, there is an increased competition between staffing agencies. Standing out from the crowd is vital and agencies need to convince candidates why they should be interested in their agency in particular.
5. New recruiting strategies
One of the most important new strategies in recruiting is employer branding. Through implementing employer branding, staffing agencies can convince candidates why they are the top agency. By connecting at an early stage, candidates are more likely to resonate with an agency's brand and submit an application.
Why software is essential for staffing agency success
For staffing agencies in particular, there are certain trends that will be crucial for future success. Agencies need to be looking ahead to determine how to best adopt these tools and techniques in order to stay ahead of the competition.
One of the easiest ways to do this is by utilizing a recruiting software that has created features to implement a modern recruiting process. The key features for staffing agencies in the future will be:
Automation
Of all the latest recruiting tools, automation might be the most beneficial for staffing agencies. With so much information to process in a short amount of time, being able to automate tasks will help to save time and money.
Talent pool
Talent pools are essential for staffing agencies, who always need a pipeline of qualified candidates to fill their never-ending list of open positions. With a recruiting software, it's easy to integrate this pool into your website as a pop-up form or separate landing page.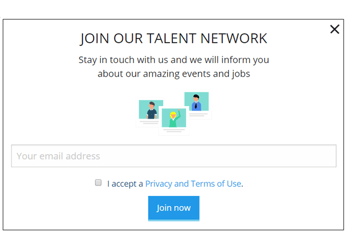 Screenshot: Example of a talent pool pop-up from Talention
Candidate Nurturing
Nurturing candidates is important for staffing agencies as well. It helps to keep candidates "warm", meaning that they will be familiar with agency and reminded of the open positions.
Nurturing campaigns are simple to set-up and automate via a recruiting software. One example of a part of a nurturing campaign is sending a monthly newsletter to update candidates on the most recent events going on at the agency.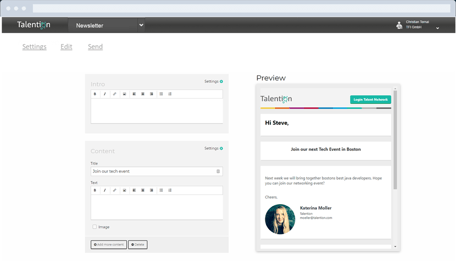 Screenshot: Example of the newsletter tool in Talention
Events
Staffing agencies that are looking toward the future are going to be focused on events. For a staffing agency, an event might look like a job fair or an evening of "speed dating style" interviews. With a recruiting software, you can advertise your events via nurturing campaigns, landing pages, and more.
Candidate Sourcing
Candidate sourcing is a daily activity at a staffing agency. In today's digital society, a significant portion of this sourcing is now done online. A recruiting software with a sourcing tool can be particularly beneficial for staffing agencies looking to speed up this process.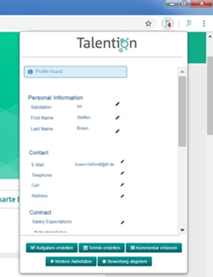 Screenshot: Example of the candidate sourcing tool in Talention
Landing Pages
A key part of career sites in the future will be landing pages. For staffing agencies, this might mean having pages specifically dedicated to certain professions or pages for recent graduates. Via a recruiting software, you can create specific pages with simple templates and integrate them into your career page.
A/B testing
A/B testing is the perfect example of how marketing related tasks are becoming an important part of the recruiting process. A/B testing will become a crucial part of recruiting strategy for staffing agencies, particularly in the area of job advertisements. For example, through a recruiting software, agencies can compare two versions of a job ad to determine which is more successful.
Check out our page "The Ultimate Guide to Recruitment Marketing for Staffing Agencies"

 to 

find further resources on the topic of staffing agencies.
Would you like to learn more about how staffing agencies can benefit from a recruiting software? We will gladly show you further best practice examples and concrete implementation in the Talention software. You can request a demo here and someone will get in touch with you shortly. Request a demo now.