When it comes to recruiting, staffing agencies are always working to make their processes faster, cheaper, and more simplified. They have to work smarter and stay ahead of the competition if they want to be successful. One way to do this is by utilizing a cutting-edge recruiting software. In this article we are going to share the 10 reasons why Talention is the best recruiting software for staffing agencies.
10 reasons why Talention is the best recruiting software for staffing agencies
1. Find the right candidates faster - and beat the competition
Finding the right candidate for each opening is the main focus of every staffing agency. And the faster that this can be done, the less chance there is of that candidate being lost to the competition.
Talention can help you to find candidates faster with our keyword tool, which will ensure that you are using the right job title for your target group. Then, we'll help you to make sure your job ads are created with your ideal candidate in mind.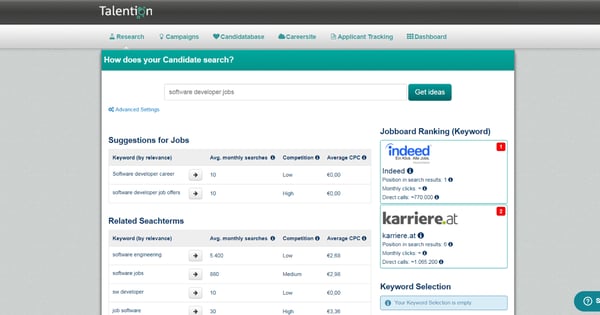 Screenshot: Keyword research tool in the Talention software
2. Easy exchange of information across multiple offices - leading to faster decisions
Larger staffing agencies are usually spread out across several offices located in different cities. It can be difficult to make sure that all necessary information is accessible between each location.
With Talention, you can ensure that all of the necessary team members can share information, no matter where they are located. In the software, you can easily exchange candidates CVs and export them as needed.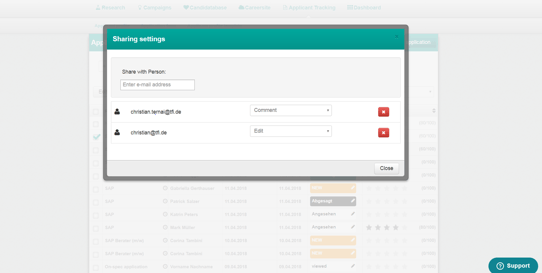 Screenshot: Sharing settings in the Talention software
3. Reduce costs - and invest in growing your agency
Staffing agencies are often hyper-focused on hitting their target budget and finding ways to reduce recruiting related costs. Using a software like Talention is perfect for cutting costs, because it will help you to optimize your processes.
For example, through Talention you can find out with which channels you have the most success. You can then focus on these channels and eliminate channels that aren't worth the cost.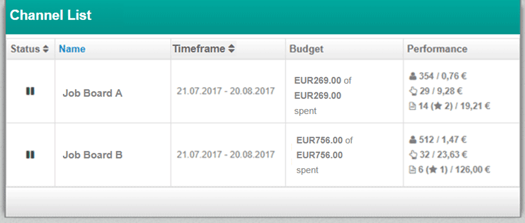 Screenshot: Channel comparison in the Talention software
4. Reduce your workload - and create leaner processes
Alongside of reducing costs, staffing agencies aim to make their recruiting process as lean as possible. That's why an applicant tracking software like Talention can be so helpful.
You can do things like automate your emails, which will save you the hassle of having to write individual emails to every candidate. You also have an overview of all applicant information in a database that is filterable for specific requirements, eliminating the need to waste time searching through files.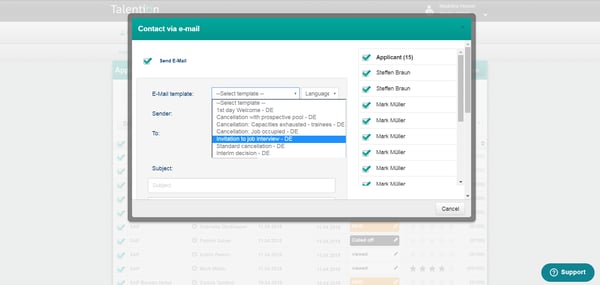 Screenshot: Email automation tool in the Talention software
5. Stand out from other agencies - and create a memorable brand
Staffing agencies need to need to win the attention of both applicants and companies, so it's important that they stand out from the competition.
Talention will help you to figure out how to differentiate your brand. From events, to social media, to candidate experience, you will learn how to implement various strategies to draw candidates in.
6. Simple A/B testing set-up - to improve your job ads
A/B testing can be a very useful technique for staffing agencies. Not only can it be used to improve your job ads, but also your career page and any other landing pages.
Through A/B testing, you will learn what is either attracting or deterring candidates on your pages and can then make simple changes to improve your conversion rate.
7. Build up a talent pool - to recruit faster in the future
Staffing agencies need to build up a talent pool to stay competitive. Talent pools are important for both nurturing candidates and also creating a database to recruit from for future positions.
You can create nurturing campaigns to keep candidates in your talent pool engaged and interested via Talention. It's also simple to implement talent pool sign-up forms or pop-up forms on your job ads and career page.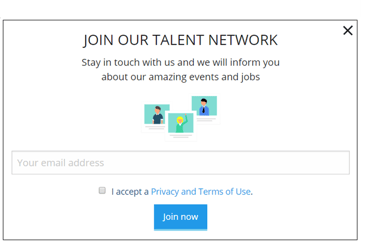 Screenshot: Talention's talent pool pop-up form
8. Increase your reach for free - to get more applications
Sharing your job ads doesn't always have to be expensive. Knowing where and how to share your job ads for free is crucial for building up free reach.

With Talention, you can increase the reach of your job ads through a multi-channel posting tool. You can post your job ads to free job boards with just a few clicks and build up reach for free.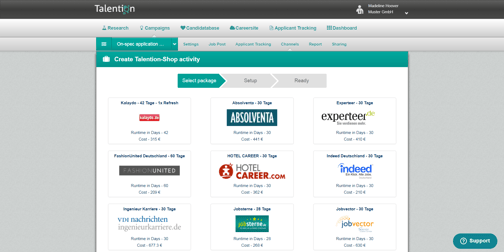 Screenshot: Multi-channel posting in the Talention software
9. Utilize analytics - to continually improve your recruiting process
Analytics can be a pain point for staffing agencies that don't have an overview of the activities across their entire agency. It can be difficult to determine even simple KPIs when there is so much information that needs to be processed.
Talention gives you an overview of all the key figures across all campaigns, so that you can have a better understanding of what's working and what needs to improve.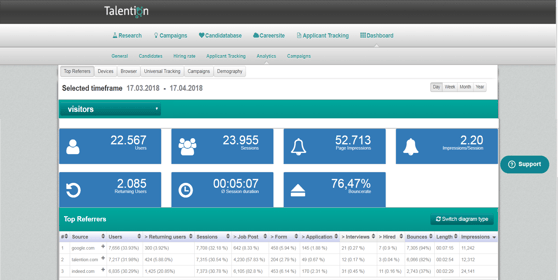 Screenshot: Analytics overview in the Talention software
10. Implement SEO strategies - and increase your findability
One of the best ways to stand out from the competition is by being at the top of the search results. Talention provides an easy-to-use SEO tool to help you optimize your job ads and make sure that they are at the top of the rankings.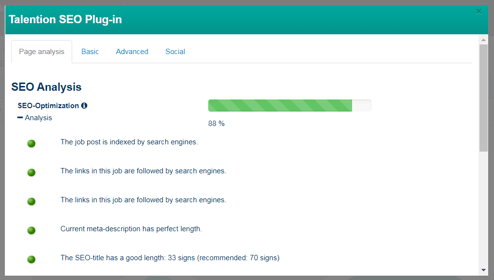 Screenshot: SEO tool in the Talention software
Would you like to learn more about how staffing agencies can use Talention? We will gladly show you further best practice examples and concrete implementation in the Talention software. Just ask for a demo here and someone will get in touch with you shortly. Request a demo now.