One of the biggest challenges facing startups is their fast growth. They need recruiting experts, but unfortunately often have to do the recruiting themselves, without having any of the necessary skills. It becomes difficult for them to find qualified candidates who have the spirit to build something up from scratch. That's where Talention can step in to help startups create a successful recruiting process. Want to know more? Here are ten reasons why Talention is the best recruiting software for startups.
10 reasons why Talention is the best recruiting software for startups:
1. You don't need to be an expert - you'll get help
With a software like Talention, you don't need to be a recruiting expert. You won't be alone in your process and we will help you to set up ads, choose channels, track your performance, and more.
Our success team is here to help you with your questions, but also to train you to become more knowledgeable in recruitment marketing strategy. This can be particularly beneficial for startups that aren't able to hire an experienced recruiter.
2. Reduce your workload - to keep your processes narrow
Even if you only have a one person HR team or if HR is just a part of your tasks, a software like Talention can help to reduce your workload. With an
applicant tracking software
, you have an easy overview of all applicants that is filterable for specific requirements.
Another helpful feature for startups are
automated emails
. Rather than having to send individual emails to candidates, you can send batch emails to multiple candidates at a time.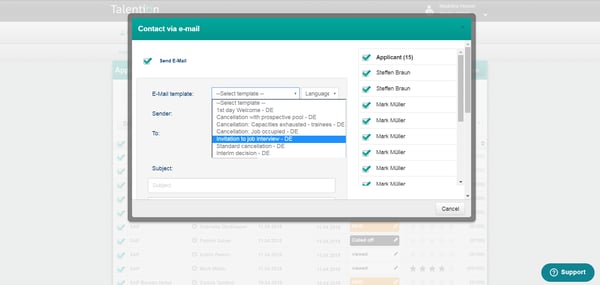 Screenshot: Email automation tool in the Talention software
3. Easy exchange in your team - leading to faster decisions
Talention can improve the exchange of information among your team. You can easily send messages about specific applicants that are accessible to multiple people or assign tasks with a timeline.
Additionally, all team members can leave notes, ratings, and update an applicant status, so that everyone can check in and share the same up-to-date information.
This will help you to make faster and more informed decisions as a team.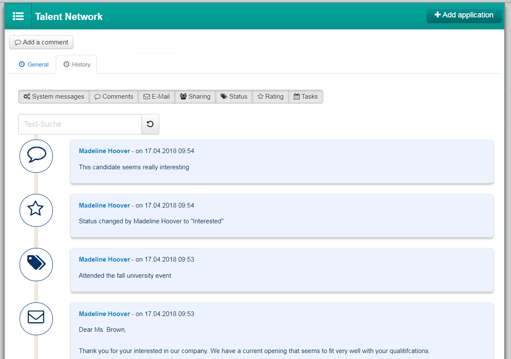 Screenshot: Applicant history overview in the Talention software
4. Strengthen your brand - to attract the right talents
Employer branding can be an issue for a new startup that is relatively unknown. Candidates may pass over your ads because they are unfamiliar with your brand. Focusing on building up a strong employer brand is crucial in convincing candidates why you are an employer of choice.
With Talention, your employer branding will be at the forefront of your career page and job ads. Measuring the success of your employer brand with specific KPIs is also a key part in strengthening your brand.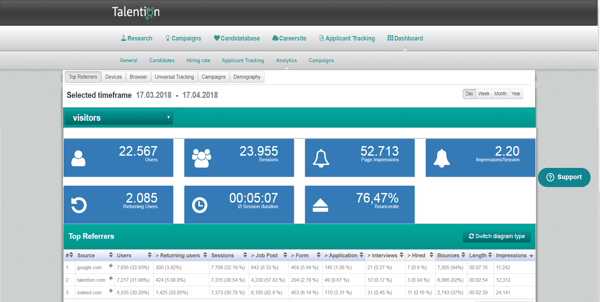 Screenshot: Analytics overview in the Talention software
5. Increase your reach - to get more applications
It's easy to get lost in the crowd with so many startups out there fighting for attention. One of the best ways to combat this problem is by ensuring that your job ads are found in all of the most relevant places.
With Talention, you can increase the reach of your job ads through a multi-channel posting tool. This allows you to post a job ad to multiple channels with just a few clicks. You can post to the traditional job boards, alongside of other options like social media, university pages, and more.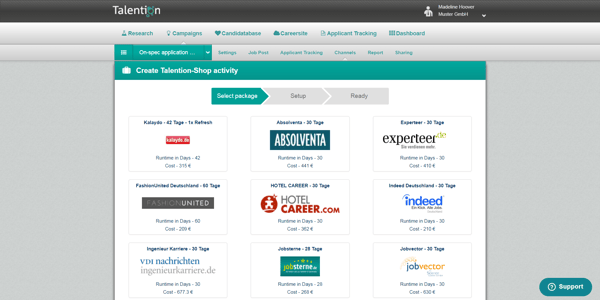 Screenshot: Multi-channel posting in the Talention software
6. Build up a talent pool - to recruit faster the next time
Building up a talent pool is especially important for startups for two reasons. First, it will help you to stay in contact with qualified candidates and to nurture them over time. You can automate nurturing campaigns to be sent out to the candidates in your pool on a regular basis, such a newsletters or event invites.
Second, it creates a pool of qualified candidates that you can recruit from for future open positions. This will save a significant amount of effort, particularly because the candidates are also "warm" from your nurturing campaigns.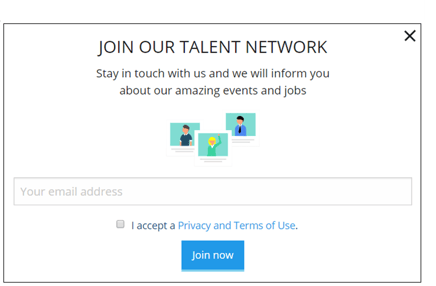 Screenshot: Talention's talent pool pop-up form
7. Reduce the amount of time needed - save time for other tasks
Startups are notoriously time challenged. They often have a small team that takes on big projects, which doesn't leave a lot of time left over for recruiting. That's why it's so beneficial to have a recruiting software to help simplify the recruiting process.
By organizing of your data in one place, Talention provides an easy-to-use overview of all recruiting information. You won't have to spend time digging around in your email inbox or annoying your co-worker to send you the latest application, it's all in saved in the system.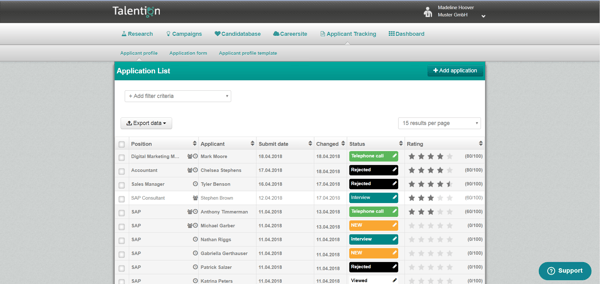 Screenshot: Application overview in the Talention software
8. Reduce recruiting related costs - save budget for other areas
Finances are another critical issue for startups. With the majority of the funds going towards getting the product launched, it may be difficult to scrounge up the money to cover recruiting costs. That's why it's great to have a software like Talention that can reduce your recruiting costs.
Not only does it save you money by reducing the amount of time needed for recruiting activities, but via analytics you can optimize various aspects of your recruiting process. For example, you can reduce costs by focusing on your most effective channels.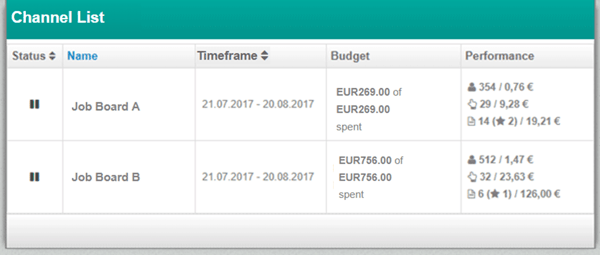 Screenshot: Channel comparison in the Talention software
9. Grow as an HR team - and the software will grow with you
With the fast growth of a startup, it's very likely that your HR team will also continue to grow. Talention offers you the possibility of having a software that will grow with you too.
You don't have to start from day one with features and a price that are unnecessary for you. You can start on the smaller scale and continue to grow over time, with easy implementation of new features as they become relevant for you.
10. Get started easily - with a professional appearance from day one
Talention makes the set-up process as simple as possible. Our customer success team will work with you to ensure a smooth transition to using Talention. It's our goal that from day one you will have a professional appearance on your career page, job ads, and more from the very beginning.
Would you like to learn more about how startups can use Talention? We will gladly show you further best practice examples and concrete implementation in the Talention software. Just ask for a demo here and someone will get in touch with you shortly. Request a demo now.