What everyone should be aware of today: A negative candidate experience due to bad application processes reduces your chances of finding suitable candidates and damages your reputation as an attractive employer.
Candidate Experience: The first impression counts!
Many factors play a role in the application process and every factor shapes the first impression of your company. Most potential applicants come into contact with your company for the first time through your job advertisements.
Candidate Experience Definition
The candidate experience describes all the experiences a candidate has gained in the application process. An application process usually begins with the job advertisement, continues with an online application process including communication with the applicants and ends with an interview.

A
positive candidate experience
strengthens employer attractiveness. The overall impression is what creates the company image and helps companies to gain a clear lead in the competition for qualified candidates. A positive candidate experience also involves continuous and respectful communication with applicants from the first contact.
A bad candidate experience, on the other hand, is bad for your corporate image. Negative experiences are reported faster to friends and disseminated via social media channels and employer ratings in rating portals (such as Glassdoor).
There is no second chance to make a good first impression.
This also applies to an applicant who sees your job advertisement and learns about your company for the first time. If you work in a classic B2B industry, e.g. machine and plant engineering, tool making, IT consulting, logistics, etc., you have one drawback: most applicants will not know your corporate brand; not to mention your employer brand.
The reason for this is that the applicants lack everyday conscious encounters with the employer brand. B2B companies therefore face the particularly difficult task of highlighting their attractiveness as an employer right from the start, i.e. with the first job advertisement.
Why is the increase in employer branding so important?
The labor market has changed significantly in recent years. The search for skilled workers and suitable employees is becoming increasingly difficult. Applicants can choose their employer today.
In order to keep up with the competition for the best candidates and avoid long-term sales losses due to vacant positions, the strategic positioning of the employer brand is the solution!
Employer Branding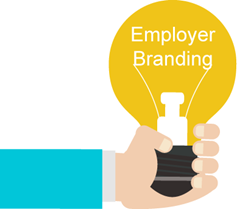 Employer branding stands for strategic marketing measures that represent a company as an attractive employer in order to gain a competitive advantage over other companies. Sustainable employer branding measures are proven to increase efficiency in recruiting and secure the desired applicant quality on a long-term basis.
Employer branding increases business results by 20% and affects all business sectors.
A strengthened employer image also has a positive effect on salaried employees. Employees who identify with the company perform better and stay with the company for longer.
We would like to show you how you can actively shape the candidate experience today with modern software! Request a free demo here today.
With Talention, we offer you a variety of steps, tools and analytics to help you make your recruiting processes user-friendly, and to continually increase your employer attractiveness.
Check out our post "The Ultimate Guide to Candidate Experience", here you will find further resources for the topic candidate experience.