In a highly competitive recruiting market, candidate experience may be the tipping point for winning over qualified candidates. Passive candidates in particular need to be convinced to switch jobs and providing them with an amazing experience is the perfect way to do that.
In this article, we will highlight 6 key tips for improving candidate experience. In order to understand how to do this, we first need to define what candidate experience means.
What is candidate experience?
Candidate experience is how a candidate feels throughout the entire recruiting process, from first coming across your website to their on-boarding. It is vital to focus on improving the experience of all candidates, not just those who accept a position at your company. The remaining candidates could be a great fit for future positions or may be ambassadors for your company, telling their friends what a great experience they had.
Here are our 6 tips for impr

oving

candidate experience:
1. Optimize your career page
It's highly likely that your career page is the first impression a candidate has of your company. Therefore it is crucial to catch their attention and ultimately convince them that you are a desirable employer. There are many ways to optimize your career page, but at a minimum it should be user-friendly and easy to navigate. In seconds they should be able to locate your open positions and search for one that is suitable.
Eye-catching images from team events and of your office is another good way for the candidate to be able to picture themselves as a member of your team. Why not include some employee testimonials to earn the candidate's trust? And of course, make sure to highlight the benefits that the candidate can expect to enjoy.

Screenshot: Fincon's career page
2. Create better job ads
Once you've caught a candidate's attention through your career page, it would be a shame to lose them on the job ad. Job ad text should be compelling and also just the right length, you don't want a candidate to give up halfway through. A great job ad will include a photo and highlight the reasons why your company stands out from the rest. In the best case, a candidate should be excited enough about the position to apply and also feel like they learned the key points about your company. Read more about how to improve your job ads here.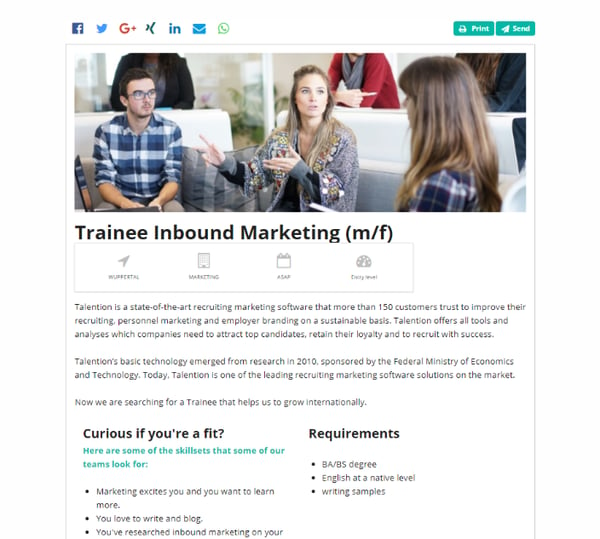 Screenshot: Job ad example from Talention
3. Give candidates a way to stay in touch
It's often frustrating for candidates who are very interested in your company but don't find an open position that fits their qualifications. This is a great opportunity to enhance their experience by offering them a way to stay in touch with you. By creating a talent pool, you provide candidates with the feeling that there is a possibility for collaboration in the future. Plus, you have the added benefit of creating a pipeline of qualified candidates for your next openings.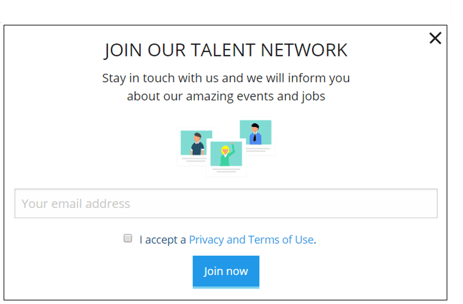 Screenshot: Talent network example from Talention
4. Invite potential candidates to events
Who doesn't love a fun event? Nothing gives a candidate a personal touch like inviting them to an event. It could be industry specific or a more general get to know the company atmosphere. You can make a candidate feel special and valued by providing them with this experience. And you get the opportunity to meet them in person without the added pressure of an interview.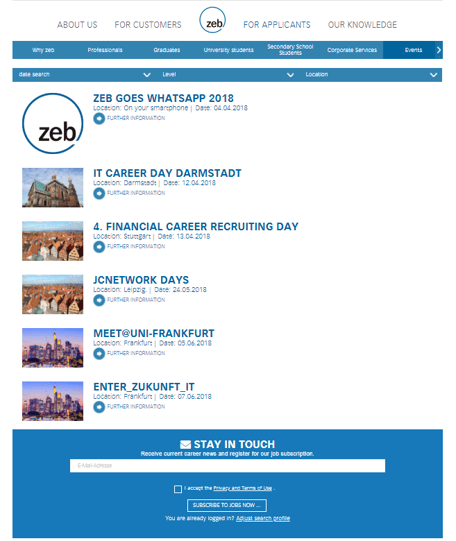 Screenshot: zeb's event overview page
5. Perfect your communication strategy
We all know that awful feeling when you realize, potentially even weeks later, that you forgot to send an email. It's an easy mistake to make when you have tons of emails in your inbox. Now, imagine you are a candidate who was waiting patiently for days to get a response about an open position. You probably aren't feeling so excited or valued by that company anymore.
This is why communication is key. And with a recruitment marketing software like Talention, you can make sure that these communication issues never happen again. Schedule your emails to be sent at a later time, send mass emails to all candidates from a certain job posting, send reminders to your employees to make sure they send out the necessary emails, and easily check the history of each candidate to see what emails they have received so far.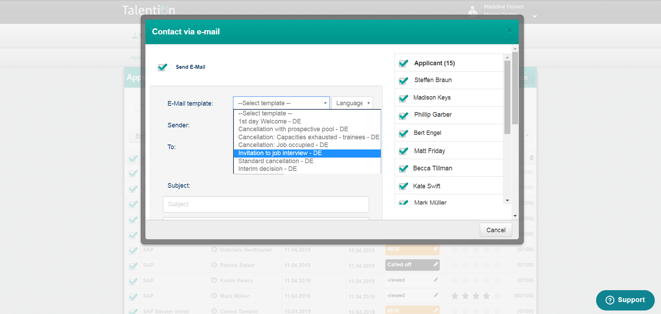 Screenshot: Batch email processing within Talention
6. Use analytics to better understand the candidate journey
It's not enough to assume you understand how a candidate is feeling, you should also consider utilizing data to better analyze the experience of the candidate. For instance, what is the bounce rate or exit rate of your job ad? Are candidates leaving quickly without filling out the form? In this case, you should consider whether your form is too long or perhaps the job ad itself is not optimally written. By understanding where you are losing potential candidates, you can actively work toward making their experience better.
Check out our post "The Ultimate Guide to Candidate Experience", here you will find futher resources for the topic candidate experience.
Are these tips too general for you? Would you like to see more specific examples from your industry? We would like to show you best practice examples and concrete implementation in the Talention software. Just ask for a free demo here and someone will get in touch with you shortly. Request a demo now.