Have you ever organized a recruiting event? If so, you have probably asked yourself what you have to consider. How do you reach the desired candidates? How do you market the event? In this article, you will learn what points to consider when organizing, performing and following up with recruiting events.
If you pay attention to the following points, your recruiting event will be a success too. We divided the different planning phases into four sections: before the event, marketing, during the event and after the event.
Before the Recruiting Event
1. Who should be invited?
Before an event, you should think about what target group you want to address and recruit. It makes sense to create corresponding Candidate Personas in advance.
2. Why should people come?
An important point for the success of your event is that you reach out to your target audience and answer the question: Why should I come? The motivation can be very different depending on the target group. Will it be a recruiting event for developers? Then a hackathon could be a suitable event, where they could develop a code together for fun. Or sales employees? Be sure you have delicious catering and interesting salespeople who have something to talk about.
3. Choose a time and place
You should ask yourself again here, what is most suitable for your target group. Should it be a lunch event or an evening event? Follow your target group.
4. Planning the room, catering and internal invitations
Take care of booking the room and catering at an early stage. An additional important point in the preliminary planning is: invite the right co-workers. Speak ahead of time with co-workers from the field you are looking for about their participation. Clarify what's coming up and ask them to share the event in their own network. Lastly, send a calendar invitation to the appropriate team members.
5. Giveaways
Giveaways can have a nice branding effect. You may also have a career flyer or other corporate-related giveaways. Anchor your company positively in the memory of the candidates.
Event Announcement and Marketing
A central point of recruiting events is the announcement and marketing of your event.
1. Where do I reach my target group? Where do I advertise?
You should ask yourself where your target persona can be found. Is it an active job-seeking group or passive? Which social platforms or forums do they use? In order to get the highest possible reach, you should use multiple channels and not just settle for one.
2. Create advertisements
Social networks such as LinkedIn or Facebook offer a lot of potential for event promotion. Post ads or post your event in relevant groups.
3. Create a landing page
The pivotal point for your event should be an event landing page. This page should be individually adapted to the target group (imagery, text, etc.). It should contain all information relevant to the event participation (time, place, catering, etc.), contact details and a registration form.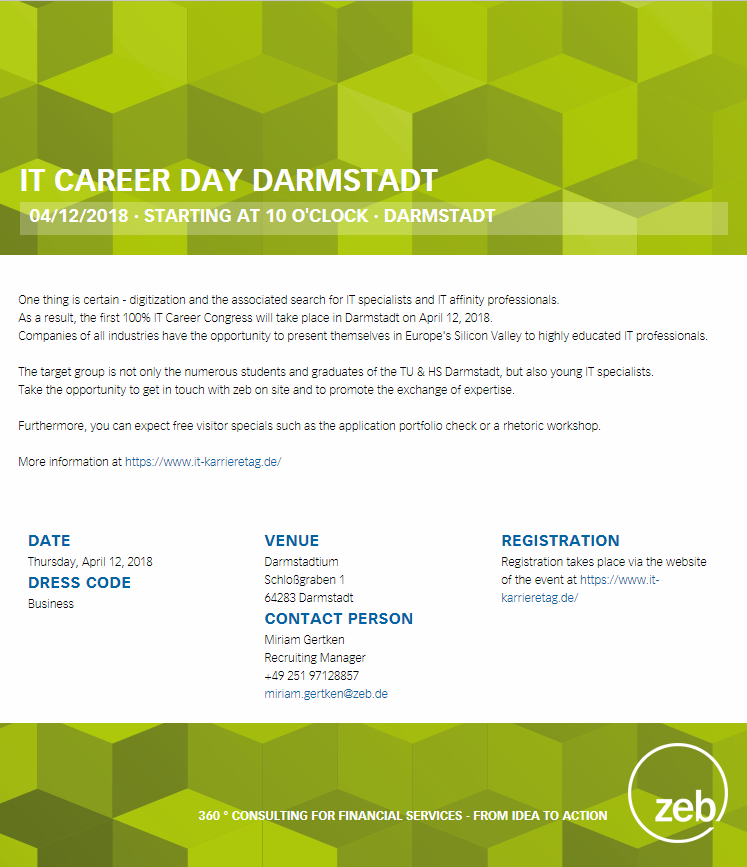 Screenshot: zeb's event landing page
4. Create a registration form
The form should also be adapted to the target group. The number of required fields always influences your conversion rate. You should also measure the bounce rate at this point. How many people will go ahead and send the application, or how many will leave the page because the form may be too long for them? A modern Recruiting Marketing Software, like Talention, collects this data automatically.
5. Advertise other events
If you regularly offer several events, it makes sense to use an overview page on which all upcoming events are listed. These can be filtered by date, level and location. Interested parties should also be given the opportunity to subscribe by email to other events.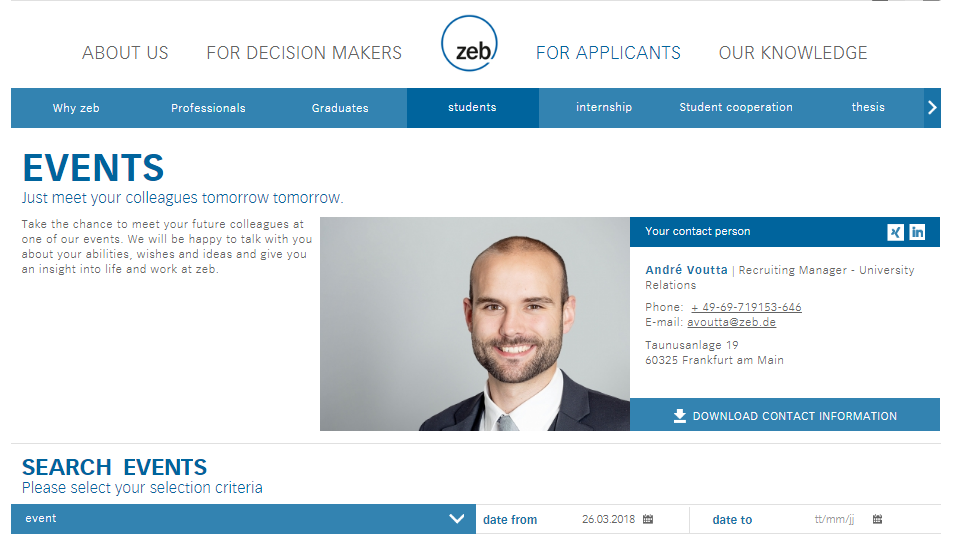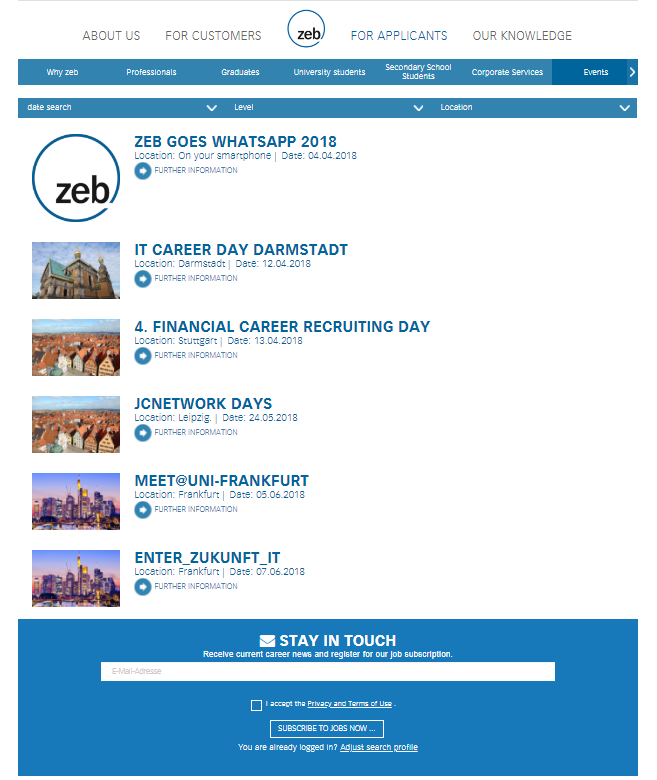 Screenshot: zeb's event overview page
6. Invite prospects/leads
You may also have leads in your Talent Network that are specifically interested in these events and that you would like to meet in person. Do not be afraid to invite them by email.
7. View relevant candidates
Several weeks in advance, you should observe how your registration numbers are developing. Are they the right candidates? Do you need to adjust the target group in the ad delivery again? These questions should be asked early on, so that the right candidates are present at the event day.
8. Create follow-up emails
Create personal follow-up emails as confirmation of the registration. Here a short confirmation email is enough.
9. Create a candidate shortlist
When the registration deadline has passed, you should prepare a shortlist of interesting candidates. It is recommended to limit the event in advance to a specific number of participants in the announcement. This leaves you with the option to invite only the right and best candidates in the end.
10. Send a confirmation
Send a personal announcement to the event via email. In this email, you should summarize all the important information (time, place, etc.). It also makes sense to send a calendar invite, so that the applicants can put the appointment in their calendar directly.
During the Event
1. Create a target list
Create a list of the most relevant candidates for the event day and appoint people from your team to make sure they have spoken to those candidates as well. In the end, you want to get to know all candidates.
2. Create a candidate summary
Make a short one-page summary of each candidate for each team member. This ensures that your colleagues can go into the discussions informed and make any further inquiries.
3. Questions for the candidates
On the summary, you can also write down your most important questions. All colleagues should be aware of what you want to know after speaking with each candidate.
4.Take notes
Instruct your co-workers to take notes on the summaries, so that the information from the conversations is not lost.
After the Event
1. Evaluate the information
Now is the time to incorporate and evaluate the new knowledge about the candidates in CRM. This makes the complete interaction transparent and can be included in a decision to invite a candidate to a job interview.
2. Send a follow-up
After the event, don't forget to send participants a nice follow-up email, thanking them for attending and expressing your interest in further contact. Always remember to try and leave a good impression of your company as a potential employer.
Check out our page "The Ultimate Guide to Recruiting Events"

 to 

find further resources on the topic of recruiting events

.
Do you already know the event add-on feature of Talention? This supports you throughout the entire event process. Create landing pages, advertise, collect applications, write emails, and manage all candidate information in one tool, especially for events. We are happy to show you more examples from your industry in a non-binding demo. Request a demo now.