Talent acquisition has become an important part of the modern HR department. Yet, many HR professionals still don't know what the term means. In this article we will explain what talent acquisition is and how it relates to recruitment marketing.
What is talent acquisition?
Talent acquisition is the process of creating a long-term recruiting strategy, as well as searching for candidates, convincing them to apply, assessing them, and hiring them. It differs from traditional recruiting in that it includes the part before the application and interview process and it is focused on creating long-term solutions for recruiting quality candidates.
Talent acquisition and recruitment marketing
Recruitment marketing and talent acquisition go hand in hand. Recruitment marketing is the strategy behind talent acquisition that keeps it running successfully long-term. There are certain components of recruitment marketing that are particularly important for talent acquisition including:
Building a talent pool
Building a talent pool is a crucial part of the long-term strategy of talent acquisition. It creates a pipeline of candidates that you can recruit from at any time, helping to reduce the time needed to fill future openings.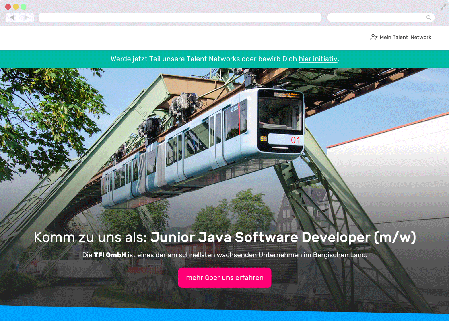 Screenshot: Talent pool pop-up form from Talention
Positive candidate experience
Having a positive candidate experience will improve your chances with new candidates. If they are already treated well during the application process, they will feel more secure in choosing you as an employer.
Nurturing candidates
By using nurturing campaigns, you can keep the candidates in your talent pool interested in and informed about your company and your current openings. This way they stay up-to-date on new positions and also remain familiar with your brand.

Example nurturing campaign schedule
Well-thought out employer branding
Your employer brand is what sets you apart from other companies. This is important in talent acquisition because you have to give candidates a reason to choose you over your competitors. If you stand out in a good way, you are more likely to be memorable.
Would you like to see more about talent acquisition? We would like to show you best practice examples and concrete implementation in the Talention software. Just ask for a free demo here and someone will get in touch with you shortly. Request a demo now.