Your career page is one of the most important pieces in your recruiting process. Yet so many companies aren't taking advantage of one of the most vital elements of the career page - the landing page. In this article we'll explain what landing pages are and reveal the seven things you may not know about them.
What are landing pages?
A landing page is a single web page, usually focused on a specific topic or campaign. The goal of a landing page is to convert the visitor to a specific action. This often means filling out a form with their contact information so that they become a lead.
What do landing pages have to do with recruiting?
As a recruiter you may be thinking to yourself - landing pages? Isn't that more of a marketing topic?
Well, the truth is that as the overlap between marketing and recruiting continues to grow, landing pages are becoming an increasingly important part of a successful recruitment marketing strategy. Although there are many reasons why they are important for recruiting, we've gathered seven of the main reasons below.
7 things most recruiters don't know about landing pages
1. Their goal is to provide more specific information for candidates
There's nothing more annoying to a candidate than arriving at a career page where they can't seem to find any of the information they are looking for. Or even worse, they visit your page and within a minute of searching determine that you don't have any relevant information for them.
Landing pages are a way to provide specific information to candidates in an easily accessible way. Rather than try to cram everything on your main career page, you can create standalone pages dedicated to single topics.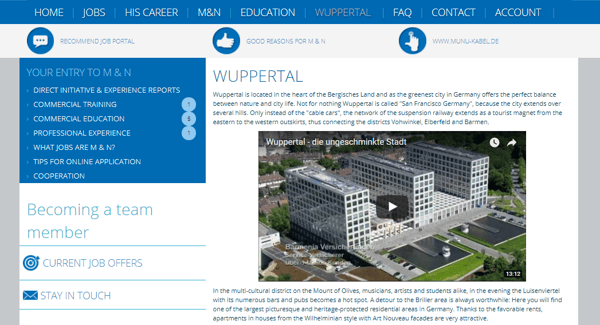 Screenshot: Example landing page on office location from Muckenhaupt & Nusselt
2. They can be used to focus on certain fields, departments, or positions
If you have certain departments or positions that you are often hiring for, it makes sense to create a landing page focused on that topic. For example, if you are often hiring developers then create a page with information solely for developers. This could include information on the IT department, a list of open developer positions, employee reviews, and more.

Screenshot: Talention's landing page for developers
3. They can enhance candidate experience
In marketing, landing pages can be used to improve user experience, but in recruiting the emphasis is on candidate experience. The goal is to provide the best possible candidate experience to candidates while on your career site, so that they convert into an applicant.
Landing pages allow candidates to access information that is most relevant for them. The more specific the better. Having this degree of specificity will make the experience as a whole more personalized for the candidate and likely more memorable as well.
4. They can improve your GoogleAds campaigns
If you use GoogleAds to promote your job ads, landing pages can be extremely beneficial. Having specific landing pages that correspond with the text in your ad will help to improve your quality score, lower your cost per click, improve your ad rank, and save you money.
5. They are perfect for highlighting your events
If you are frequently hosting recruiting events, landing pages are a great way to highlight these events. If your career page is jam packed with information, your events will probably get lost in the mix. But by giving them their own page, you can drive more traffic and attention to it and increase your sign-ups.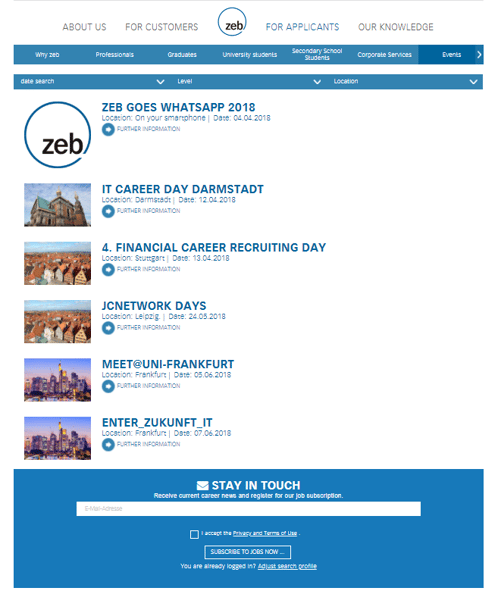 Screenshot: Example of an events landing page from zeb
6. They can help create specific retargeting campaigns
Landing pages can help you to create better retargeting campaigns. For example, if you have a landing page for developers, you can create a retargeting ad that will be shown to the audience that visited the developer page. This will make your retargeting campaigns more effective because they will only be shown to the audience that directly correlates to the ad.
7. They can fill up your talent pool
If you have a talent pool, you can create a specific landing page for your talent pool to help convert visitors into potential candidates. On your talent pool page, your emphasis should be on what makes your company unique and why candidates should want to work there. You'll definitely want to include things like employee benefits, current employee testimonials, and team photos.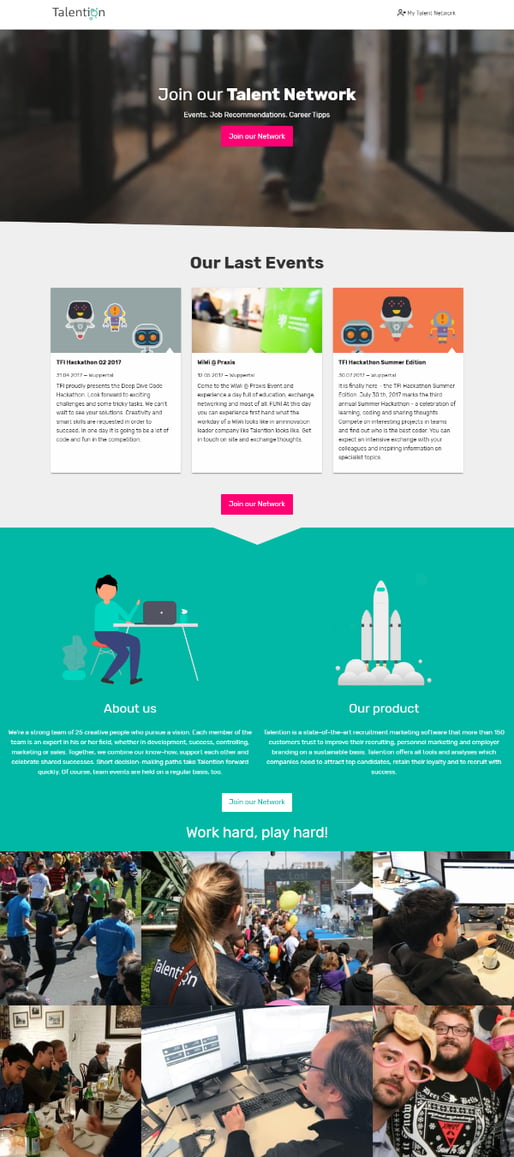 Screenshot: Talention's talent pool landing page
Check out our "Ultimate Guide to Becoming a Modern Recruiter" find further resources for recruiters.
Would you like to learn more about using landing pages in your recruiting process? We will gladly show you best practice examples and concrete implementation in the Talention software. You can request a demo here and someone will get in touch with you shortly. Request a demo now.