Recruiting is a continually changing field. With the unemployment rate at a historical low, specialist/skilled workers in high demand, and the rise of digitalization, it's no wonder that recruiters have had to adopt new measures to stay successful. Recruitment marketing is the new way to stay competitive in today's recruiting world. Not sure what that means? In this article, we are going to explain what recruitment marketing is and how you can start implementing the right recruitment marketing strategies in your hiring process.
What is Recruitment Marketing?
The goal of recruitment marketing is to create a positive candidate experience. This goal is fulfilled through a combination of employer branding content and recruitment marketing strategy. By utilizing these two components, companies are able to create and carry out positive relationships with their candidates. Ultimately, companies should be able to reach both active and passive candidates in a way that excites them and motivates them to apply.
Key Components
Content
Content plays a huge role in shaping your employer brand. It should be focused on the interests and needs of your target group. You content should convince potential candidates that you are an attractive employer.
Leads
Leads are a critical component of recruitment marketing. Leads can be gathered via your network, sourcing, your career page, events, and more. The focus should be on creating positive relationships with potential candidates so that you can easily fill open positions.
Channels
Channels are the conduits that allow you to reach both active and passive candidates. Recruitment marketing helps you to select the right channels that will reach your target group. A key part of this is analyzing and evaluating the channels that will bring you the most success.
Analytics
With analytics, you will learn how to evaluate and improve your recruitment marketing strategy. The analytics will show you where you are losing candidates and what you can do to increase your conversion rate.
Recruitment Marketing Strategy
The recruitment marketing strategy can be divided into four phases: attract, convince, win over, and hire. We will go through each phase to discuss what each specific stage entails.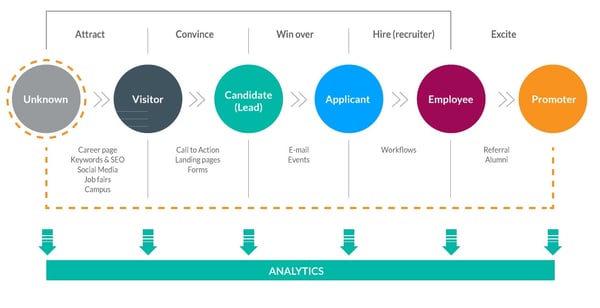 Attract
This phase is all about a good first impression. You are turning unknown people into visitors of your career site through sharing target group related content. This can be done through a variety of methods including keyword research, SEO, social media, job fairs, and campus recruiting.
Convince
Once you've gotten the visitor on your career page, it's time to turn them into a potential candidate. This can be done through employer branding content on your career page, targeted toward your ideal candidate. More specifically, you could use specific landing pages for different groups (students, department specific pages, etc.). Or you could create a form for them to sign-up to your talent pool to receive updated information on the jobs that you have available.
Win Over
This is the really crucial part of the strategy - turning candidates into applicants. You should be strategically nurturing these leads though emails or events, creating touch points that will lead them to the application process.
Hire
The final step of the process is selecting a new employee from your pool of applicants. This part is usually done via workflows between you and your colleagues to help you to find the best possible candidate for the open position. And don't forget to leave a good impression on those who are not selected as well!
Check out our page "The Ultimate Guide to Recruitment Marketing"

 to 

find further resources on the topic of recruitment marketing

.
Would you like to learn more about the Talention recruitment marketing software? Talention offers all the key components for successful recruitment marketing. Talk to one of our experts about the benefits of recruitment marketing and specific implementation options for your company today. You can request a demo now here!