Job boards are an integral part of recruiting. And job board itself is an important term for all HR professionals to know. In this article we will share the definition of a job board and explain how job boards are used in the recruiting process.

Job board definition
A job board is a website where companies can post their job advertisements and where candidates can look for a job opening. Most job boards have some type of search function, so that candidates are able to search for relevant open positions.
It varies by job board if candidate can apply on the site or if they are directed to another website. There are also various types of job boards that cover almost every aspect that candidates are looking for, such as job boards based on career, location, and experience level.
Using the right job board can be a crucial factor in the success of your recruiting process. You should be using the job boards that are most often visited by your target group of candidates.
Job board integrations
If you use a recruiting software, having a job board integration (also known as a multi-channel posting tool) can simplify the posting process. By using a tool you can create one job ad and post it to multiples sites in just a few clicks. A tool can save you time and money, as well as help you to determine which job boards are the most successful for you.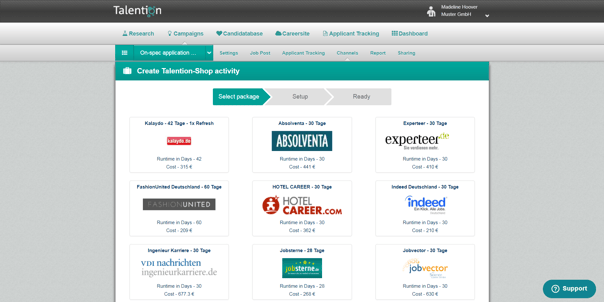 Screenshot: Job board integration in the Talention software
Would you like to learn more about job boards? We would like to show you best practice examples and our job board integration tool in the Talention software. Just ask for a free demo here and someone will get in touch with you shortly. Request a demo now.