You are probably familiar with this common problem in recruiting; as soon as one job is no longer vacant, the next opening needs to be filled. If you are completely unprepared in this type of situation, it can lead to a long recruitment process. In this article, we would like to show you why it is beneficial in this case to introduce candidate relationship management.
Candidate relationship management
Through candidate relationship management, i.e. the management of relationships with your potential applicants, you can tie them successfully and sustainably to your employer brand. It will support your recruiting activities and save time and costs when filling positions. It's about filling your talent pool with the right candidates and building relationships with them. Only then can you convince them at the right moment to apply to your company.
What is a talent pool?
As it is increasingly difficult to find suitable candidates, it makes sense to introduce a talent pool. Interested applicants can register here when there is no suitable job advertised for them. Even the applicants who you do not select for a particular job could be given the opportunity to subscribe to the pool if interested.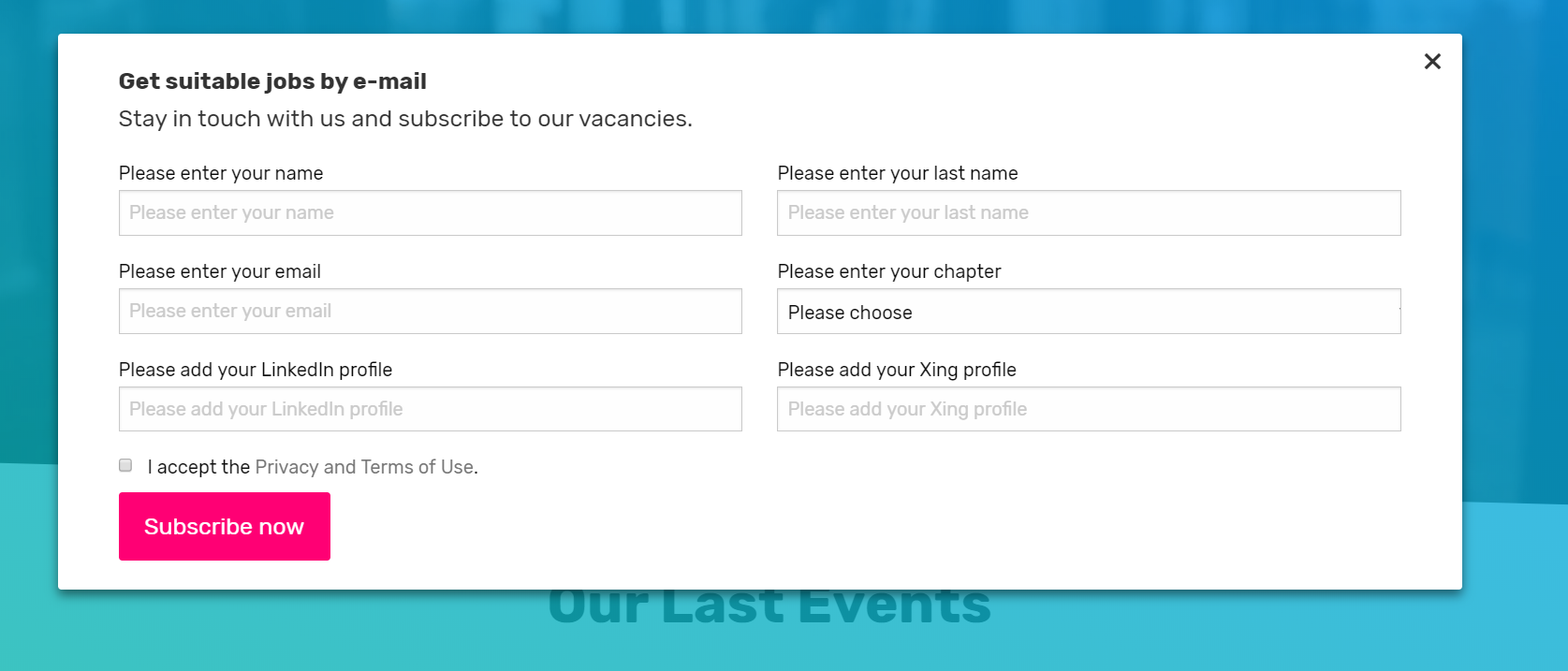 Screenshot: Talent pool offer on a career site
A pool of prospective candidates is a database of candidates already interested in your company.
How will a talent pool benefit my company?
A talent pool is used when there is a specific need for recruiting. From the talent pool, the candidates suitable for the vacant position are selected and the contact process begins. Since the candidate has already actively enlisted in the talent pool, contacting them is in most cases simpler than, for example, sourcing.
Screenshot: Search filter examples in the talent pool in Talention. This way, you will immediately find the candidates that suit your job and can contact them in the next step.
Less effort
Since the candidate is likely familiar with and interested in the company already, it is easier to go straight to the specific offer. You no longer have to convince the candidate of your company as an attractive employer, but only of the specific job. The recruiting effort from the talent pool is therefore low.
Lower costs
If you are able to fill the position from your talent pool, you do not need to place a job ad. This saves you the entire advertisement costs and you can use the budget for other positions. A talent pool can also help you make more efficient use of your recruiting budget.
Talent pools or prospect pools are now practically indispensable and they complement the classic recruiting process.
How do I build a relationship with my candidates?
Once you've filled up your talent pool, it's important to continually build a relationship with your candidates. Candidate relationship management is a proactive process. You should periodically contact candidates who have registered in the talent pool for various reasons, for example to remind the candidates of your company and to remain present in their minds, to leave a positive impression, and in addition to offers, to send newsletters. The following ideas are recommended for a newsletter:
Christmas greetings
Easter greetings
Birthday greetings
Open house or other events
Your company has won an award
Interesting topics in your companies area of expertise
Latest information about the company
In summary, candidate relationship management is a necessary response to changes in the labor market. It is a valuable complement to existing recruiting activities and is an important tool for building relationships with hard-to-reach audiences.
Candidate relationship management is part of the recruitment marketing method, which uses principles of inbound marketing. It is also involved in building the employer brand and delivering targeted online advertising for job opportunities. It covers the long road from stranger to successful hiring as an employee. Read more about the recruiting marketing method here.
Check out our page "The Ultimate Guide to Candidate Relationship Management" to find further resources on the topic of CRM.
We're here to help you introduce candidate relationship management and get it right for your business. Request further information here.