What are the challenges that recruiters face in the social sector? We sat down with Harald Böning, the CEO of Sonnenschein Personenbeförderung GmbH, to get to the bottom of exactly that and other questions concerning recruiting. You can find out here how he deals with the challenges and how Talention supports him on a daily basis.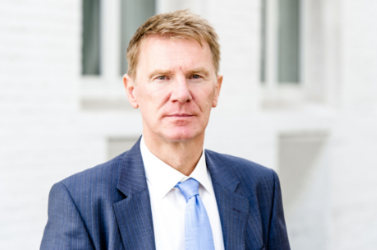 Harald Böning, CEO of Sonnenschein Personenbeförderung GmbH
Talention: "Hello, Mr. Böning. Let's start our interview with you telling us something about your company and yourself."
I am the CEO of Sonnenschein Personenbeförderung GmbH in Wuppertal. Our company specializes in the transportation of school children, people with disabilities, as well as in the rapidly growing field of senior citizens' transportation. We currently have 500 employees and 400 vehicles, which are active in many areas, be it the Bergisches Land or the Ruhr area. We have grown strongly in recent years, which has naturally also had an impact on our recruiting.
Talention: "Speaking of your recruiting. What are the challenges you face there?"
We have a very high demand for new employees. For us, the basic qualification is first of all the driving licence. There is no need for a degree. Our focus lies on reliability, patience and a very distinctive social competence. These requirements are not easy to fulfill. We have high expectations of our future employees and our recruiting is therefore by no means an easy process.
In recent years we have been able to help ourselves by identifying two target groups - women who have devoted themselves to their families in their early years and have had no schooling and the elderly who have become unemployed before retirement. With this approach we are faced with the great challenge that the usual recruiting tools do not offer access to the marketplaces where such target groups can be won.
Talention: "What convinced you about Talention in the beginning?"
Talention has a central theme throughout the software - from job posting to the implementation. It is an application management and recruiting software that presents the most important and essential processes simply and clearly. Using it is therefore very intuitive.
Talention: "What has changed with Talention in your company?"
Before Talention, we had internal difficulties with the organized passing on of applications due to the many operational areas and the different dispatchers. This was one of the biggest changes with Talention, as we now have central access to all our applications, which makes our organization much easier.
Talention: "How did you experience the onboarding process with Talention?"
It's very unusual to be trained so well after purchasing a software as it was with Talention. We had the permanent opportunity to ask questions when uncertainties occurred and all were answered with a very short response time.
Talention: "What do you think will become increasingly important in the recruiting market in the future?"

The recruiting market has developed into an applicant market again in recent years. The last time that was so distinctive was in the 1950s. Applicants are in a labour market where they have the option of selecting their employer. As an employer, it is no longer sufficient to take action only when the job is vacant. The keyword here is long term recruiting. You have to constantly be on the marketplaces where the target groups are located in order to attract and retain their attention at an early stage.
Talention: "In this context, do you use our talent pool/ talent network?"
We plan to build and use a talent network in the future - also with the help of Talention. A talent pool to rely on is existentially important.