When we think about social media, we often associate it with things like selfies, celebrities, and going viral. But what about employer branding? Social media is an essential part of developing a positive and well-known employer brand. In this article, we will share with you seven ways to improve your employer branding strategy through social media.
7 ways to improve your employer branding strategy
1. Be active on multiple forms of social media.
We know what you are thinking: Of course I'm already using social media! And we also know that you probably have a company Facebook page and maybe even a Twitter account. But let's be honest, do you have someone regularly posting updates and creating new content for your followers? And what about other forms of social media like Instagram, Pinterest, and LinkedIn? Do you already have accounts on all of these sites?
Take a minute to think about how you could ramp up your social media strategy. You could start by regularly updating the accounts that you already have. Then, move on to exploring a new type of social media, like Pinterest for example.
2. Add social sharing icons to your career page and job advertisements.
Now that you've started to build up your social presence, you should make your social profiles accessible on your career page. There should be icons present so that potential applicants can easily click and follow your company on social media.
In addition to that, job advertisements should also contain sharing icons so that visitors can share jobs via their own social media accounts. They may be happy in their current position, but could know a friend or colleague that might be interested in your open positions.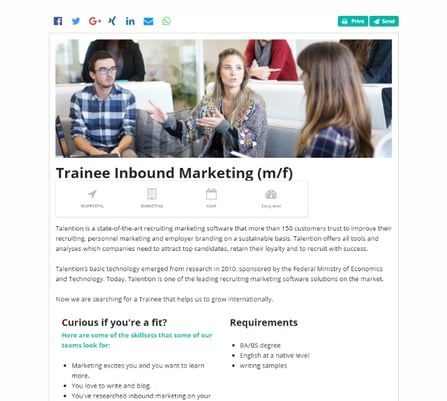 Screenshot: Job advertisement with social sharing icons
3. Connect with candidates.
Social media is called "social" for a reason. It's mean to promote dialogue between otherwise unconnected people. This is a great opportunity to share what your brand is currently working on and then engage in conversation with those who are interested. One potential idea for increasing your reach would be holding some type of contest or giveaway on social media.
4. Create a Facebook job board.
Even if you already have a company Facebook page, there is still more that can be done to increase your reach. The next step is creating a Facebook job board. You can post your jobs on Facebook, saving your potential candidates the need to leave their favorite social site to find their dream job.
It's easy to integrate into your company Facebook page and gives candidates a way to learn more about your company and your open positions. Take a look at the example Facebook job board below.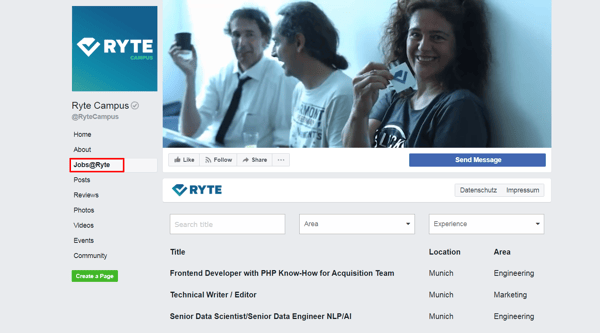 Screenshot: Facebook job board from Ryte
5. Use Instagram to share your company's daily life.
Potential candidates are always curious about what their daily life at a potential company could be like. Instagram is the perfect way to put your company's everyday activities on display. It's not just about having a picture perfect grid, but rather about giving a realistic depiction of the day-to-day life for your employees.
Not only will you capture the attention of possible applicants, but you will reduce the likelihood of receiving applications from candidates who are not a good fit for your office environment.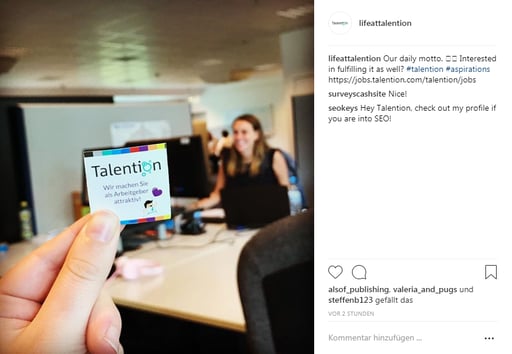 Screenshot: Instagram post from Talention
6. Define your company's voice with Twitter.
Twitter is the best social media outlet for sharing your company's voice. You can use this channel to share content you've created, interact with the posts of your followers, and engage in conversations about trending topics. It's a great way to show the personality of your company and also join in on greater global conversations that tie into your company's main focus.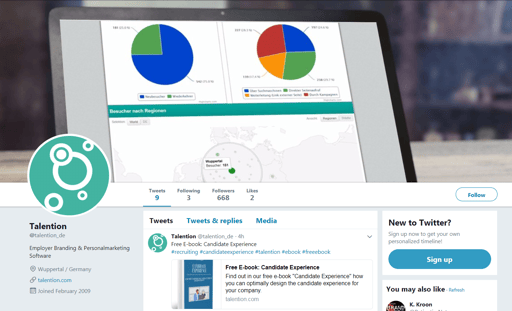 Screenshot: Talention's Twitter account
7. Highlight your company culture with Pinterest.
Pinterest may seem intimidating, or like it doesn't relate to what your company does, but it's a platform that any company can utilize. What's great about Pinterest is you can curate a visual representation of your company's culture. There are endless amounts of ideas here, like creating a board where you introduce your team members. Or letting each team member create a board that represents their position and their personality. And of course, it's a great place to share some of your own content and get noticed by others.
Check out our page "The Ultimate Guide to Employer Branding", to find further resources on the topic of employer branding.
Would you like to see more specific employer branding examples from your industry? We would like to show you best practice examples and concrete implementation in the Talention software. Just ask for a free demo here and someone will get in touch with you shortly. Request a demo now.