With so much constantly changing in today's modern recruiting world, it's hard to keep all of the terminology straight. If you've been wondering what exactly an applicant tracking system (ATS) is, then you've come to the right place. In this article we will give a brief overview of what an ATS is and what essential components it should consists of.
What is an applicant tracking system?
An applicant tracking system, at it's core, is a tool for managing applications. It helps to coordinate all of the parts of the decision making process for recruiters, including receiving and reviewing applications, sending emails, reviewing candidates, sending reminders and notifications to colleagues, and storing candidate information. An ATS should make the lives of recruiters easier, by coordinating, collating, and synthesizing information, all in one place. It should also make the recruiting process easier for applicants and leave them feeling informed and positive about the experience as a whole.
In addition to that, applicant tracking systems have started to assist with other portions of the recruiting process by including some recruiting software features. For example, applicant tracking systems can be used to create and publish job advertisements, conduct analyses, expand reach, and build up relationships. While these new additions have also become part of a modern ATS, applicant tracking systems are still primarily used for applicant management.
Recruiting in the digital age
Recruiting activities have changed fundamentally in recent years. One example is the change in the labor market and the reduction of the unemployment rate in the US from 10% to 4% in the last 9 years. This means that fewer candidates are actively looking for a job. In addition, a strong digitization has taken place in the past few years. It is important that you adapt your recruiting process to these circumstances and one of the best ways to do that is by utilizing an ATS with recruiting software features.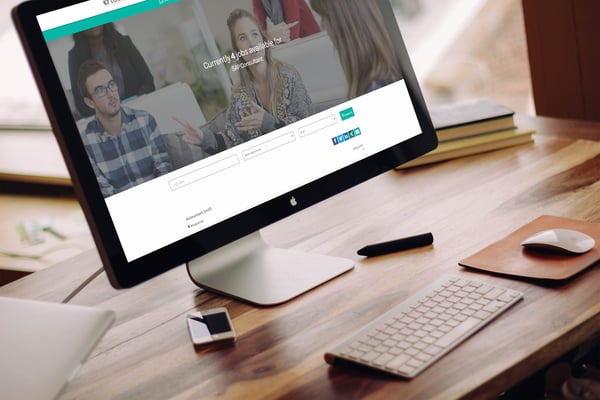 You should strategically set up your recruiting process to differentiate yourself from the competition. An applicant tracking system with recruiting software elements should support this process and include the following components:
Lean administrative processes
The ultimate task of an ATS is to make the administrative process of the recruiting team as lean as possible. By storing all information from the recruiting process in one place, an ATS eliminates the possibility of double-work and prevents tasks from stalling due to lack of information. This will save valuable time that can then be used to create opportunities for new areas of growth.
Decision making management
In an applicant tracking system, you can clearly view all of the applicants history and make an informed decision that will be accessible to all team members. Being able to view the entire teams comments, ratings, and communication with the applicant allows for a transparent decision making process. Additionally, it will speed up the process, ensuring that you don't miss out on any candidates due to time elapsed.
Improved and documented communication
An ATS allows you to easily communicate with your colleagues in a documented way, storing all of your communication in one place for a later use. It also means that everyone on the team will be on the same page and has access to the same information.
Easy application processes
In order to convince more people to apply, the application process must be very simple and clear. Customize your application process according to your target group with editable forms or use one-click application procedures with social media data.
All applications in one place
By storing all of your applications in an application tracking system, you eliminate the possibility of an application getting lost or getting stuck on the desk of one team member. It also means you can quickly move between applications, compare candidates, and leave comments without having to worry about the information disappearing. In addition, you will be informed of any duplicate applications.
Simple publishing
Choose the right job portal and publish your job ad directly from the system with just a few clicks. In addition to the classic job exchanges, an applicant tracking system with recruiting software features enables you to easily show ads in additional individual channels, as well as all social media channels.
Increased reach of job ads
Optimize your job advertisements by reviewing your SEO in the tool found in an ATS with recruiting software elements. Then your job ads will be found optimally on job portals, in job search engines and in general search engines. As a result, you will constantly expand your reach and be found by the applicants that you want to hire.
Create workflows and set reminders
For recruiting teams, setting workflows and reminders is significantly easier with an ATS. It helps to ensure that all tasks are successfully completed on time.
Professional job list on your career page
With an applicant tracking system, your job advertisements will be automatically uploaded to a job list on your career page. You can create filters for different categories in the job list, like location or professional field. In addition, it will allow you to show other relevant positions to candidates who are not interested in the specific advertisement they are looking at.
Modern job advertisements
Easily create modern job ads that fit to your employer brand with an ATS. This is a simple process through using existing best practice templates that only require you to fill in the relevant information.
CV/Resume Parsing
A helpful feature of an applicant tracking system is CV/Resume parsing. The CV parsing function simplifies the application process for applicants and significantly improves data entry by the recruiter. It saves time-consuming manual collection of data and helps precise matching in order to filter out the suitable candidates
Data Protection
An essential component of an applicant tracking system is data protection. Now that data privacy laws are the norm in most countries, it is imperative to have an ATS that is compliant with the laws of the countries that you recruit in. A key feature of this is the automatic deletion of sensitive information.
Talent pool management
To fill open vacancies quickly, it is important to build a pipeline of candidates. By using an applicant tracking software with a talent pool, you can maintain relationships with your candidates and build your own talent pool from which you can quickly fill posts.
Conduct evaluations
An ATS with recruiting software features gives you a deeper understanding of where your candidates come from (e.g. candidate journey reports), which channel performs the best (e.g. channel performance reports) and allows for a continuous improvement process.
Different roles and rights
If your team has multiple members with different positions, an applicant tracking system allows for different roles to be created in the system. This includes different levels of access and rights to editing information. It can also be helpful for letting co-workers outside of your team review candidates, without having to worry about any data being changed or compromised.
Check out our page "The Ultimate Guide to Applicant Tracking Systems" to find further resources on the topic of applicant tracking.
Talention provides you with all the analysis and tools you need to find, reach, interest, and ultimately motivate your relevant candidate target groups to apply for jobs. We would be happy to show you what this process would look like in your case with a free demo. You can request a free demo here.