Phone interviews are often the first step in the interview process. They can make or break your first impression of a candidate and vice versa. In this article we've gathered the ten do's and don'ts for conducting the perfect phone interview. If you follow these ten guidelines, your next interview is sure to be a success.
Phone interview do's and don'ts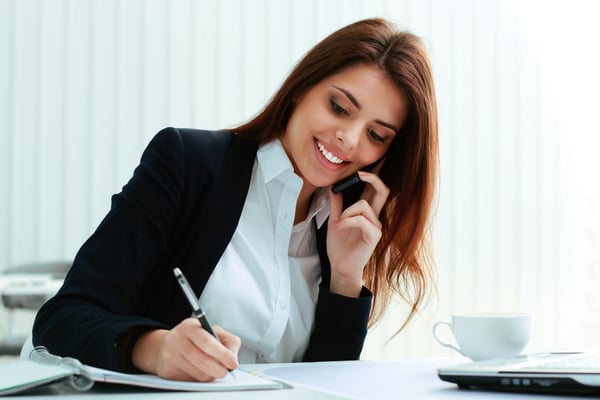 1.Do prepare in advance
Even if a phone interview is more of a quick candidate screening process at your company, you should still be preparing in advance. You want to make the best possible impression on the candidate and that means showing them that you've read their CV.
2. Don't forget to send them a confirmation email
To ensure that your interview takes place at the right time, send out a confirmation email beforehand to the candidate. Let them know who will be making the phone call, who will be on the phone call, the time of the call, and the approximate duration of the call. This way you can avoid any confusion or misunderstanding between you and the candidate.
3. Do get their phone number
In your confirmation email, you should emphasize the fact that you are going to be the one who is calling the candidate. This is also a great time to either ask for their phone number or confirm their contact details. You don't want to be stuck on the day of the interview when you realize that you have the wrong number.
4. Don't completely surprise them
A candidate is naturally going to be nervous before their interview. By giving them a few of your questions in advance, you can help to calm their nerves and also help them to prepare. While you don't want every one of their answers to be rehearsed, you do want them to feel relaxed, prepared, and comfortable so that the interview can go as smoothly as possible.
5. Do schedule enough time
Although you might be expecting a phone interview to only take 15 minutes, make sure you schedule some extra time around the call. This will give you time to dive deeper with a great candidate or have a few minutes to write down your notes after the call. If you try to schedule too many interviews in a row, you are likely to get behind in your schedule and also suffer from interview burnout.
6. Don't talk too much
The point of a phone interview is to get to know the candidate, that means it should be more of the candidate talking than you. If you are dominating the conversation, you won't be able to accurately get to know the candidate. While you should take the time to briefly introduce yourself and the company, the candidate should be the focus of the interview.
7. Do find a quiet place
There's nothing more annoying than not being able to understand someone on the phone because of loud noises in the background. The candidate has hopefully taken the time to find a quiet place to speak with you and you should show them the same respect. Plus, it will make having the conversation a lot easier.
8. Don't forget to ask deeper questions
The idea of a phone interview is to screen out candidates that aren't a fit for the position before the in-person interviews. This means they often consist of the basic questions like years of experience, salary expectations, and motivations. But don't be afraid to get a little deeper with your questions. Make sure you cover all the basics but try asking a couple of follow-up questions to learn a little more about the candidate. For more questions ideas, check out our free guide to the 101 best job interview questions.
9. Do tell them the next steps
In order to provide a good candidate experience, you should inform candidates about the next steps after the phone interview. Let them know an estimate of when you will contact them again and what would take place after the phone interview, should they be selected for the next round of interviews.
10. Don't multitask
You probably have a lot going on during your busy days, but don't use the time during the phone interview for other tasks. As much as you may want to start looking at the CV for the next interview, try to stay present with the current candidate. They've given you their time and you should respect their time as well.
Check out our page "The Ultimate Guide to Job Interviews"

 to 

find further resources on the topic of job interviews.
Would you like to learn more about job interviews and the recruiting process? We will gladly show you further best practice examples and concrete implementation in the Talention software. You can request a demo here and someone will get in touch with you shortly. Request a demo now.