A job interview is a key part of a candidate's experience and journey. It is crucial that recruiters take the time to prepare for each interview and make sure that process is running efficiently. Not sure about your interview preparation process? We've gathered the six major mistakes that recruiters often make in their job interview preparation process.
Job interview preparation: The 6 major mistakes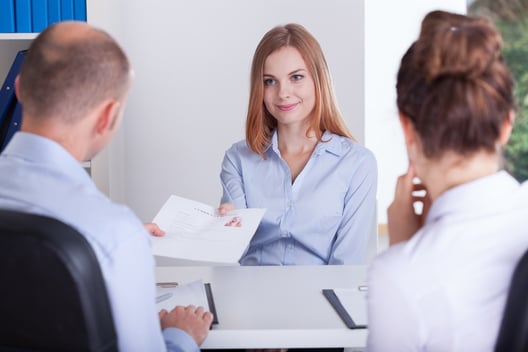 1. Not reading each CV
As a recruiter, you likely read hundreds of resumes a week. It's easy to understand why you might not want to take the time to carefully read each candidate's CV before every interview. However, not knowing the specifics of a candidate's CV will leave them with a bad impression and they will assume they are not a top candidate for the job. Make sure you have a few details ready to share so that you can show them you've taken the time to get to know them.
2. Not creating unique questions
While there are probably some repeat questions in every interview, you won't get to know each candidate on an individual level if you use the same questions every time. Some of the questions should be based off of their qualifications and previous experience with specific references to the information they have provided. In addition, some of the questions should be related to the requirements for the role and the desired personality type. Check out our list of the 101 best job interview questions for some inspiration.
3. Not giving clear instructions
The candidate should be clearly informed on how the interview process will work. You should let them know in advance who they will be meeting with and when, as well as whatever items they should bring with them. Instructions should also be provided on where the office is located and how to get there. And don't forget to mention the dress code if you have one.
4. Not setting aside enough time
In a busy work day, things often get backed up and delayed. Make sure you are leaving enough time between interviews so that they don't disrupt the schedule. When a candidate is forced to wait in the lobby for 15 - 20 minutes, it leaves them feeling like the company does not value their time.
5. Not giving each candidate a chance
It's clear that there is usually a preferred candidate for each position, but that doesn't mean you should write off the other candidates quite yet. You might be surprised by a candidate who didn't come off quite as well on paper, but has a personality that is the perfect fit for your company culture. Each candidate should be given a fair chance to prove themselves, at least through the first round of interviews.
6. Not sending a confirmation or reminder email
Before each interview, you should confirm the date and time with the candidate and, if possible, send a reminder email beforehand. Miscommunication often happens when relaying these date/times, especially when you have a significant amount of interviews to schedule. By planning out these emails in advance with a recruiting software, you can worry less about any mistakes being made.
Check out our page "The Ultimate Guide to Job Interviews"

 to 

find further resources on the topic of job interviews.
Would you like to learn more about job interviews and the recruiting process? We will gladly show you further best practice examples and concrete implementation in the Talention software. You can request a demo here and someone will get in touch with you shortly. Request a demo now.