Surely you already know Pinterest from your private usage. Have you ever wondered how Pinterest can support your content marketing in recruiting? The platform is particularly popular among American companies. You can find out in this article what Pinterest has to offer and why it could be worthwhile for your company to become active there.
What is Pinterest?
The platform 'Pinterest' was launched in March 2010. Similar to Instagram, it is a channel that focuses on images, videos and illustrations as a medium. Interestingly, however, this is one of the very few parallels between Pinterest and other social media. While profiles on Facebook or Instagram mainly focus to a certain extent on self-portrayal and collecting as many followers and subscribers as possible, these aspects are only secondary when it comes to Pinterest. It is about the content itself and the inspiration it is supposed to trigger in other users.
Pinterest also serves as a search engine for images, GIFs, videos, etc.. If a user likes a post, he has the possibility to save it and to sort it into folders on his profile under different topics.
Pinterest's terminology
In order for you to become a Pinterest professional, you should be able to understand the terms used on Pinterest:
Pin - A pin is a post on Pinterest, for example a photo. It can be saved by users. One of Pinterest's special features is shown here: The pin is always linked to its source. In other words, with the website from which it originated. It acts as a virtual bookmark and directs traffic to your website.
Board - The boards on Pinterest are nothing more than folders with different topics in which the pins are sorted after saving.
To pin something - In the Pinterest terminology, this means saving a post from another profile or website. It is also possible to upload your own posts, i.e. pins.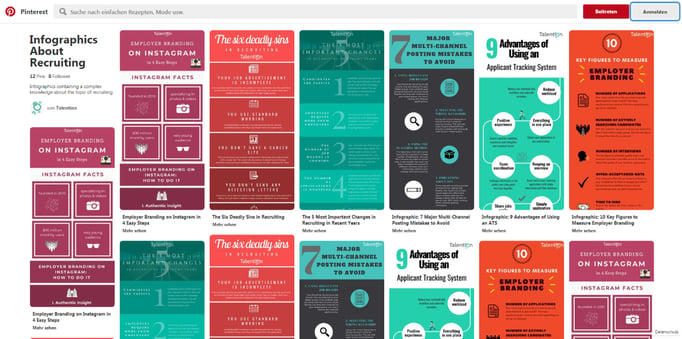 Screenshot: The board "Infographics About Recruiting" on Talention's Pinterest profile
Why can Pinterest be worth it?
Pinterest offers you as a company first of all one thing: a free reach extension. By having users pin your posts and sort them into their boards, others can see them and possibly pin them as well. The range is thereby enormously increased. Also, each of these users is redirected to your website, even if they did not know your company before and were only interested in the post itself. This way the traffic to your website is also increased.
What can I upload as a company to Pinterest?
Images are undoubtedly the focus of Pinterest and are one of the reasons why, according to some, the cliché target groups are often brides who plan their wedding on the platform and let themselves be inspired here. There is one truth to this belief - companies represented on Pinterest are often companies that own products that are suitable for visual presentation.
However, there are also ways for Pinterest to support your content marketing in recruiting. It is possible to upload articles to Pinterest as well as images, videos or GIFs. For this purpose so-called 'RichPins' are used.
What distinguishes RichPins from normal pins is that they contain more information. You have the possibility to enter an author, title and a short description as well. By doing so, Pinterest offers you the chance to increase traffic to your blog.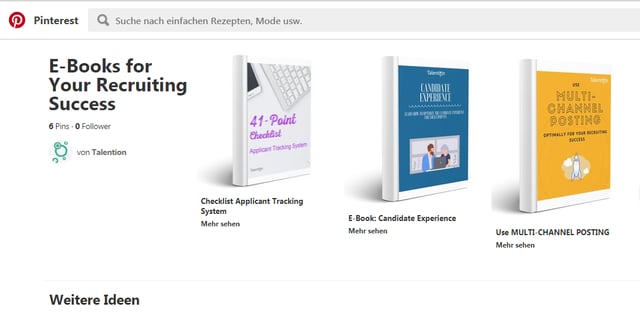 Screenshot: Talention's Pinterest page - further examples for pins
How can I use Pinterest for my recruiting?
Content marketing is also becoming more and more important in recruiting. In addition to exciting articles or e-books about your industry, you could use pins from employees in which they explain why they enjoy working for you. Also pictures from the last recruiting event or infographics, which emphasize the company's added value, are a good idea. Here you also have the chance to link the pins to your career page or your talent pool registration and to attract potential candidates to your website.
Especially in today's recruiting world, you should not be afraid to try out new social platforms. Evaluate for yourself whether and how you can reach your target group via this channel. Therefore it is important to measure how successful this channel is for you. Always ask yourself: Was I able to reach my target group via this new channel? Only in this way can you optimally assess whether your efforts have paid off.
Talention supports you in keeping track of your recruiting channels and shows you what works for you and what does not. We would be happy to show you in a free demonstration how Talention can support you more and faster in finding the right candidates. Request a demo now.