Career pages are often the first point of contact between companies and candidates. The goal of a successful career page is to convince potential candidates to apply for an open position or sign-up for a talent pool. If you are wondering how to create a successful career page, we've got some insider tips just for you. In this article, we'll be sharing the 11 essential content and design elements that you should include in your next career page redesign.
Content Elements
1. Employee quotes
Including employee quotes on your career page helps to build trust and is a more personalized approach to convincing candidates why they should apply. By reading the opinions of potential colleagues, candidates feel like they are able to get an inside perspective on life at your company.

Screenshot: Example of an employee quote from Talention's career page
For more examples of employee quotes, take a look at Fincon's career page.
2. Well written job ads
Job ads could be considered the most important content on your career page. These advertisements need to be convincing enough to make potential applicants click the apply button. Not only do they need to highlight the specific position, but they should also include an enticing description of life at your company.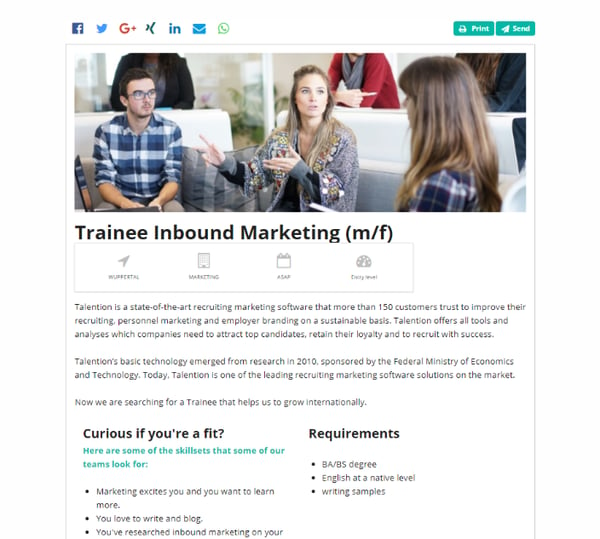 Screenshot: Example of a job ad from Talention
3. Videos
Videos are another great way to get personal. There are a wide variety of potential topics that could be covered here such as life at your company, employee testimonials, focusing on a specific department, or highlighting your benefits as an employer.
4. Target group specific landing pages
Creating target group specific landing pages with individualized content will allow you to reach candidates on a deeper level. This is a great place to include content meant to convert candidates into applicants.

Screenshot: Example target group specific landing pages from zeb
For more inspiration, check out zeb's landing page for university students or Talention's landing page for java developers.
5. Events landing page or section
If you host events, creating a specific page or section for events can help to draw attention and increase attendance. If you have a lot of events to put on the page, try adding a filter to make it easier for candidates to find the relevant events.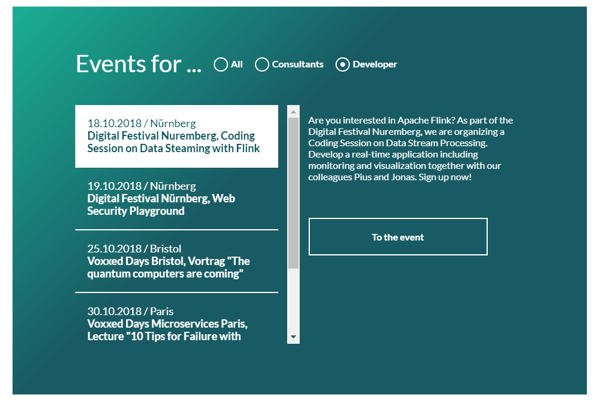 Screenshot: Event section example from Senacor
Design Elements
6. Overview of all open jobs
One vital element of a career page is an overview of all open jobs, with a way to easily filter for relevant positions. For instance, potential applicants are concerned with things such as department, job title, location, type of position (i.e. full-time vs. part-time), and much more. By creating an interactive list that allows the user to filter out irrelevant jobs, they will be able to find a fitting position much faster.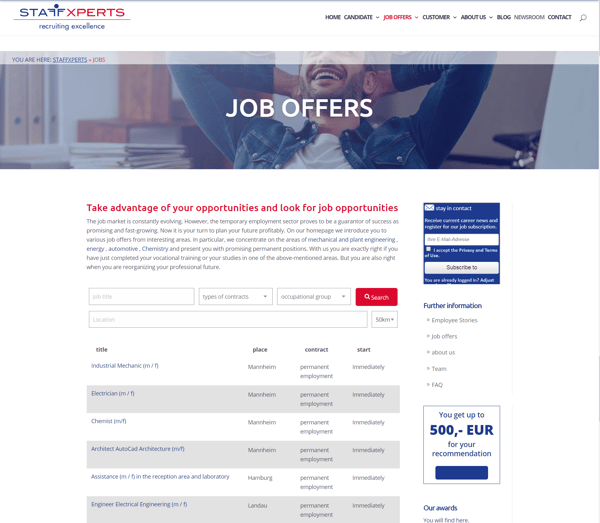 Screenshot: Example of a job list with filters from STAFFXPERTS
7. Target group oriented photos
The photos on your career page should be specifically selected with your target group or groups in mind. They should feel represented on your page so they can easily see themselves fitting in at your company.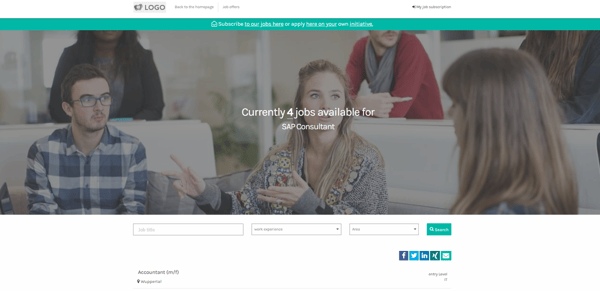 Screenshot: Example of a target group specific photo from Talention
8. Icons highlighting employer benefits
By placing icons on your career page that highlight your benefits as an employer, you can summarize your most important points in an eye-catching way.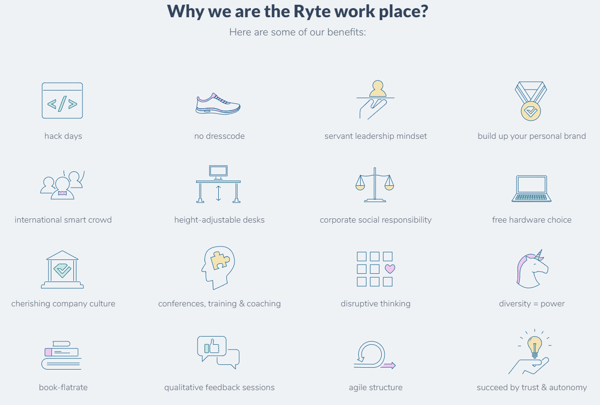 Screenshot: Example of benefit focused icons on Ryte's career page
9. Easy to use application process
The application process itself is often a deterrent for potential applicants for a variety of reasons. On many career pages, the application page is hard to find, hard to use, and time consuming. Extra care should be taken to make sure that your application process is smooth sailing for candidates.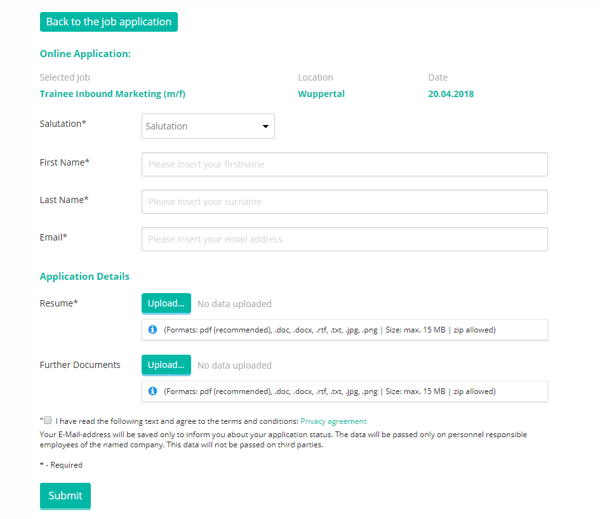 Screenshot: Example application process from Talention
10. Talent pool sign-up
Every career page should include a talent pool, as a way to stay in contact with candidates who do not find a relevant position. The talent pool should be easy to find, easy to understand, and have a simple sign-up process.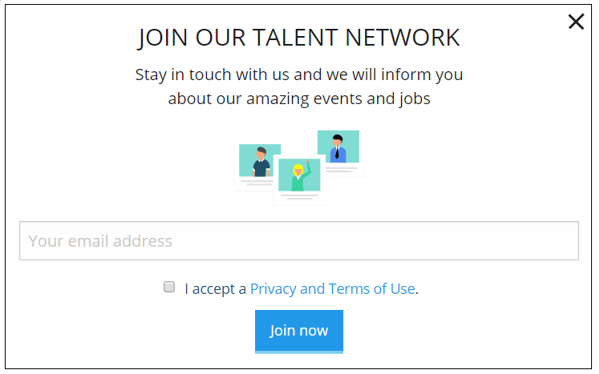 Screenshot: Example of talent pool sign-up as a pop-up on Talention's career page
11. Mobile friendly
Many candidates are browsing career pages and job ads on the go, which likely means they are using their cell phone. For this reason, career pages should be optimized for mobile.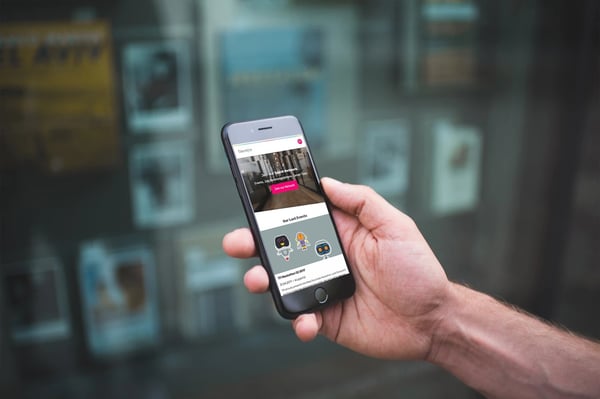 No matter whether you're focused on content or design elements, don't forget to make your page personal. Every piece of your career page should help candidates to better understand your company culture.
Check out our page "The Ultimate Guide to Career Pages"

 to 

find further resources on the topic of 

career pages.
Would you like to see more specific career page examples from your industry? We will gladly show you further best practice examples and concrete implementation in the Talention software. Just ask for a demo here and someone will get in touch with you shortly. Request a demo now.