Creating an attention-getting job advertisement can often seem like an intimidating task. However, you might be surprised at the simple tricks you can use to create a perfect job ad. And you'll also get a better response to your ad when it's posted on job boards! In this article, we'll share 5 easy tips to create a more compelling job ad.

There is no second chance to leave a good first impression.
This also includes an applicant who sees your job advertisement for the first time and thus learns about your company for the first time. If you are working in a classic B2B sector, e.g. machine and plant construction, tool manufacturing, IT consulting, logistics, etc., you are especially at a disadvantage: your company brand will be unknown to most applicants, not to mention your employer brand.
The reason for this is that the applicants are missing everyday and conscious encounters with your employer brand. B2B companies are therefore faced with the particularly difficult task of highlighting their attractiveness as an employer right from the start, i.e. with the first job advertisement.
The perfect job advertisement: What is the first thing the reader notices about your job ad?
Of course, the job advertisement header and the design. An attractive layout significantly increases the conversion rate of your job advertisement and motivates readers to apply for your job. Ideally, you will have a large selection of target group-specific S-templates in your applicant tracking system (see below), which you can access easily and at any time.
Design your job advertisement: Relevant elements of a perfect job advertisement
The most important part of a full job advertisement is relevant information. So how do you prioritize the content of your ad? The job title or campaign title is probably the most important element of your job ad. It should be chosen in such a way that it appeals to as wide an audience as possible. Your search engine optimization (SEO) should also be geared to this relevant job title. This makes it easier for applicants to find your job online.
Job descriptions that sound modern are often hidden behind job titles that are only known to your target group by other terms. A job advertisement advertised as "Human Transformation Manager (m/f)" will have a lower response rate than the classic "Personnel Manager (m/f)" simply because of the job title. With Talention, this job title analysis can be easily performed for any job title.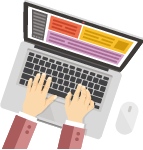 Tip for our customers: Start every job advertisement with an applicant market analysis. One click on the Talention research tool is all it takes - the Talention SEO genius is used to carry out search engine optimization while editing your job advertisement.
Task description, requirements and company description
In addition to that, your job advertisement should include a description of the job tasks (approx. 5 key points) and the requirements you are looking for (also approx. 5 key points). Pay particular attention to the requirements to ensure that you create a balance between desired candidates and real applicants. You should only raise the bar on your requirements if you expect more applications than you can process from the outset.
The relevant elements of a job advertisement also include an attractive company description. This should be formulated from the applicant's point of view. So make it clear which successes your company can show and what you can offer your employees (Employer Value Proposition, EVP). Do not use industry language or company abbreviations, as this could confuse your applicants, who are supposed to get a positive first impression of your company with this job advertisement.
The correct indexing of the location
The indication of the location of the position is a mandatory field on most job boards, e.g. Stepstone (see below), so that your advertisement is indexed accordingly and can be found by applicants. The best way to find your advertisement is to add the postcode and the state in addition to the place of work (location of the company). In metropolitan areas especially, you have the chance to increase the visibility of your job advertisement by using the right indexing of the location.

Example: Search section on Stepstone
You will notice that a job advertisement with the text "in Solingen (near Wuppertal, Dusseldorf, Essen and Cologne)" is found by more applicants than an advertisement that only contains the text "in Solingen". Your job advertisement has the worst findability if it is just tagged once with "nationwide". The keyword "nationwide" should only be included in the ad text if a high willingness to travel is required.
Performance Analysis
These tips should help you to design a suitable layout for your job advertisement. In the next step, you should perform a performance analysis to see how good the click and conversion rates of your job ad are. In addition, you should check the actual interest of the readers in your job advertisement with the help of practical analysis tools, e.g. Talention. We would be happy to show you in a non-binding demonstration how Talention supports you in individual process steps, starting with the job title analysis up to the performance control. You can request a demo now right here!
Check out our page "The Ultimate Guide to Job Advertisements"

 to 

find further resources on the topic of job ad

s.