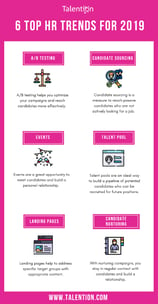 With 2018 coming to a close, it's time to look ahead to 2019. What will be the next trending topics in HR and recruiting? And how can you stay one step ahead of the competition?
Our poster "Top HR Trends 2019: 6 Trends You Don't Want to Miss", gives you the the 6 top HR trends of 2019 that you should look out for.
Simply fill out the form and receive your free poster.