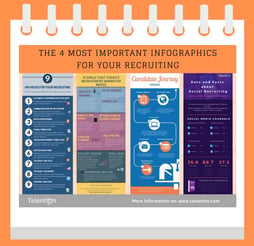 Our poster "The 4 most important infographics for your recruiting" gives you an overview of our most popular infographics regarding recruiting. Our infographics help you to get a quick overview of 4 of the most important topics in recruiting.
Download your free Poster now!
On the poster:
9 HR Hacks for Your Recruiting
10 Skills That Today's Recruitment Marketer Needs
An Overview of the Candidate Journey
Data and Facts about Social Recruiting
Simply fill out the form and receive your free poster.