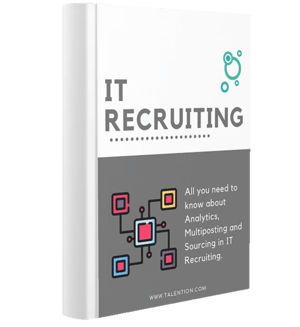 If you are an IT recruiter, you know how difficult it is to make contact with IT experts and convince them to apply. Therefore we have listed in our e-book "IT-Recruiting" what you need to know about Analytics, Multiposting and Active Sourcing in IT-Recruiting.

Among other things, you will learn how to use smart analytics in recruiting to find out where candidates are lost today. You'll also learn what to consider when considering Active Sourcing in IT recruiting and how multiposting can help you achieve better IT recruiting results.

Simply fill out the form and receive your free e-book.
Topics in the e-book:
How to Use HR Analytics in IT Recruiting - 5 Practical Tips
Multi-Channel Posting - The Key to Better IT Recruitment Results
Sourcing in IT Recruiting: What You Should Know
Interview Sevenval Technologies GmbH: How Software Supports IT Recruiting